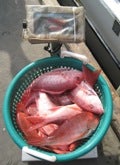 The National Oceanic and Atmospheric Administration's (NOAA) new catch share policy, which encourages the use of catch shares to manage fisheries, is exciting news for the Gulf of Mexico's declining fisheries and struggling fishermen.
The Gulf of Mexico Fishery Management Council deserves a pat on the back for already considering catch shares for some of its fisheries, and NOAA's new policy can help jumpstart even more progress to end overfishing in all Gulf fisheries. Ending overfishing is good for Gulf economies and will give fishermen more time on the water.
The red snapper individual fishing quota (IFQ), one type of catch share, is wrapping up its third year, and we continue to see the tangible benefits of catch shares: commercial overfishing is ending, fishing businesses are more stable, and bycatch (accidentally-caught fish that must be thrown back in the water and often die) has been significantly reduced.
Other Gulf fisheries and sectors can benefit from catch shares too: Read More »