With the support of Senator John Kerry, Congressman Bill Keating, and Congressman Barney Frank, New England groundfish fishermen are asking if they can "carry over" a portion of unused catch for the upcoming fishing year.  EDF thinks this makes sense and will work with NMFS and the New England Fishery Management Council to support putting this into place.
Carry-over is generally allowed under catch share programs for two reasons.  First, catch limits in later years are often set assuming a certain level of catch in earlier years.  If the actual catch is less than the maximum allowed in a given year, that typically will result in a higher level of sustainable yield the following year.  Second, allowing carry-over prevents a rush by fishermen to meet their quota limits at the end of the season.  Such a rush could disrupt all the benefits catch shares can deliver with respect to careful and selective fishing practices that minimize bycatch and habitat impacts, and strategic choices of when and where to fish in response to weather conditions, market demand, and other factors.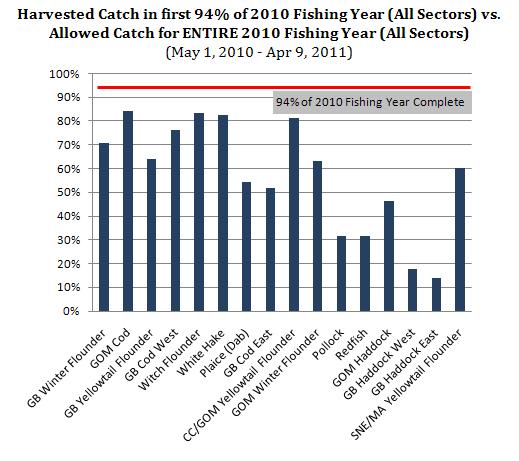 In this first year of the New England groundfish sector program, like the first year of many new management programs, fishermen undoubtedly were cautious as they figured out how best to fish their quota.  It makes sense to let fishermen benefit from the conservative harvest seen in the first year of sectors.
Sector fishermen are already allowed to carryover up to 10% of any unused quota.  It is clear from looking at the amount of unused quota (see chart below) that the catch of many stocks will be more than 10% below the science-based catch limits set to guard against overfishing.  Rather than simply forgo the socio-economic benefits to be gained from at least some of the unused quota, we hope fishery managers can allow fishermen to reap some of the rewards of their conservative fishing this year.
Support seems to be steadily building towards having NMFS and the New England Fishery Management Council take active steps to decide what amount of additional unused quota can safely be carried over for the species that were underfished in 2010.  The appropriate percentage levels should be based on the biology of each species, so that we don't set the fishery back by jeopardizing rebuilding of overfished stocks and compromising the productivity of rebuilt stocks.  However, it is unlikely that all of the unused quota should be carried over.  After all, natural mortality continues to act upon the stock, and will remove some of the fish that would have been harvested had the full quota been fished.  A scientific analysis can determine how much of the fishing year 2010 quota is likely to still be available to the fleet in fishing year 2011.
Taken together, this measure, as well as the increased ACLs for many groundfish stocks next year and fishermen's continually improving ability to navigate the sector program, should lead to increased yields and revenues across the fleet, and a more economically and environmentally stable fishery in 2011.
Jake Kritzer is EDF's Senior Marine Scientist for the New England and Mid-Atlantic regions.  He is also Vice-Chair of the New England Fishery Management Council's Scientific and Statistical Committee, among other advisory appointments.