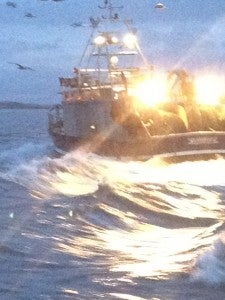 It's no secret that working directly with fishermen to implement fishery management solutions is the most effective way to support positive change. Recently, we have begun engaging in conversations with fishermen, fishery stakeholders and MEPs on the reform of the Common Fisheries Policy in Europe. EDF was recently acknowledged in an article in Under Current News for being a leading NGO in European fisheries reform—due in large part to our collaborative approach with fishermen.  Britt Groosman, our EU Program Director, was quoted extensively in this article.
"'EDF has found that the most successful way of working towards fishery management is by consulting fishermen in a participatory process,' Britt Groosman, program director for EDF in the EU, told Undercurrent. 'The way to find that out is to talk to all the stakeholders and see what everyone's concerns are, to try and find a way to get environmental improvement with the buy-in of all the stakeholders involved. Because the more you impose your will on people the more you'll end up with control issues. People don't like being told what to do and they'll try to get around rules. The fishermen are the people who implement the policy on the water, and have the real influence,' she said."
Read the full article to learn more about  how we find solutions, at home and abroad, no matter how challenging the problems. Read the full article here.