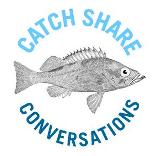 In continuing with our look at harvesting cooperatives as a part of our Catch Share Conversations series, the Pollock Conservation Cooperative in Alaska's Bering Sea shows a good example of how a cooperative form of catch share can lead to conservation and economic benefits for fisheries.
The Pollock Conservation Cooperative (PCC) was established in 1999 and is made up of six member companies operating 19 catch-processor vessels. As an industry led initiative, the PCC is used to coordinate harvesting activities that promote conservation of fish stocks and better utilization of landed fish. The PCC has resulted in slower paced pollock fishing, a longer season – from 74 days in 1998 to 285 days in 2009, and 50 percent more product per pound of fish landed.
Read the CSC Pollock Conservation Cooperative of the Pollock Conservation Cooperative to learn more about its history, performance, and key design features.