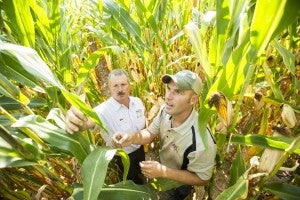 One year ago, the U.S. Department of Agriculture announced 10 "building blocks" for climate-smart agriculture and forestry, with the goal of reducing greenhouse gas emissions by over 120 million metric tons by 2025.
The agency's focus on partnering with farmers and ranchers – as well as with the private sector – was a huge step in the right direction toward widespread implementation of climate-smart agriculture techniques and programs.
Tomorrow, USDA Secretary Tom Vilsack will announce another big investment in conservation stewardship and climate-smart agriculture approaches to advance the building blocks agenda. I'll be joining Secretary Vilsack to talk about EDF's partnerships within the agricultural supply chain and our collaborative approach to ag sustainability.
Working across public-private sector lines, through a collaborative approach, and with the entire ag supply chain is the only way to bring sustainability to scale while protecting farmers' livelihoods.
Here's what key sectors of the ag supply chain are doing – and can do – to improve water quality, reduce greenhouse gas emissions, and increase agricultural resilience. Read More »