Forty million acres of U.S. land are dedicated to growing corn for animal feed. That's roughly the land equivalent of the state of Florida. As the global demand for meat swells, so does the demand for feed grains.
Growing this corn requires a lot of fertilizer, yet up to 50 percent of fertilizer applied is lost, leading to air and water pollution as well as high costs for farmers.
MBGro, an innovative sustainability program developed by Smithfield Foods' Hog Production Division, is helping solve this problem. MBGro offers free agronomic consultation to farmers, with a goal of keeping more nitrogen in fields and out of waterways, while maximizing profits along the way.
As a story in today's Farm Journal noted, "Smithfield … hopes 75% of its grain sourcing acreage in the Southeast and Midwest will participate in [MBGro] by 2018."
At the heart of MBGro is 25-year old agronomist Rachel Carr. I asked Rachel to tell me about her passion for sustainable agriculture, why she believes MBGro is a model for other protein companies, and about how cover crops played a role in her recent engagement.
Let's start with the engagement and how cover crops were involved. Story please?
Six days before my birthday, my fiancé Dalton and I were planting wheat as a cover crop in the 1/4 acre plot next to our house.
We were carting around two hefty buckets of seed so when I took a mid-field break, I saw out of my peripheral what I assumed was Dalton splitting the one heavy bucket into two. But in a blink he'd called my name and asked me to marry him!
After I said yes, we sat and soaked it all in for a moment, then hopped up and went right back to planting.
What's your farming background?
I was born and raised in Clinton, North Carolina, located within the top agricultural production county in the state. Farming is in my blood, as my 90 plus year old grandfather has been a grain farmer all his life and is a contract grower for Smithfield.
Growing up, my favorite feeling in the world was digging my toes down into the dirt. I've always hated shoes and had a passion for the outdoors. In high school I started working on a blackberry farm as a picker and a packer, in college I worked on a horse farm, and later for a large-scale produce farm. I loved these experiences so much that I knew I wanted to be involved in agriculture for my career.
Being an agronomist is my calling – and my passion.
How do you define land stewardship?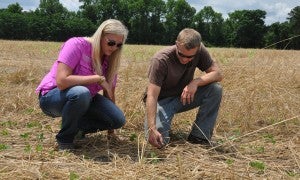 Farming is part of the ecosystem of how we survive. It's such a reciprocal process – we farm and in return it provides us nutrition and feed for our animals. Sometimes there's a perception that farmers don't take care of their land, but that land is a farmer's livelihood and their lifeblood – so they're invested. Sustainability is good for the future of their operation.
Of course, there is always more that growers can be doing to benefit their business and the environment. I want to be able to empower those growers and MBGro is a great way to do that.  I spend all day working with growers and analyzing what practices make most sense for their situation.
What is the biggest barrier to implementing fertilizer efficiency measures, and how can MBGro help?
Unfamiliarity with new practices and the perceived time required to see a return on investment. But some of MBGro's tools, such an optical sensor that can be used during in-season nitrogen applications, can generate a positive return for farmers in as little as a year.
Another tool offered by MBGro is cover cropping, which offers benefits ranging from compaction relief to additional and retained nitrogen.
What's next for the MBGro program?
We're expanding into the Midwest, and we'll soon be using United Suppliers' innovative SUSTAIN platform in our sustainable sourcing efforts. SUSTAIN trains agricultural retailers in best practices for fertilizer management and soil health – so Smithfield is really interested in helping connect our growers to the platform.
Working with ag retailers holds huge potential to reach so many more acres. I'm just one agronomist, but by working with 10 ag retailers, we can really get the word out on the benefits of sustainable ag. Both SUSTAIN and MBGro are great models that I hope will be replicated across the protein sector to help farmers and the planet.
Related:
How Smithfield's landmark climate goal benefits farmers and the planet >>
Animal feed is at the heart of grain sustainability >>