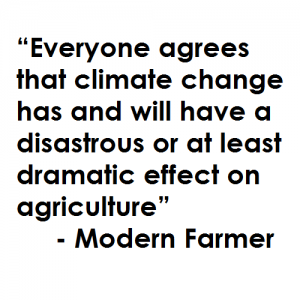 You may have heard by now about "climate-smart agriculture." It's the catchphrase that came out of the United Nations Climate Summit this week and the reason I was in New York to participate in a panel discussion on how to achieve food security for a growing population in a climate-changing world.
More than 20 governments and 30 organizations announced they would join the newly launched Global Alliance for Climate-Smart Agriculture, which aims to enable 500 million farmers worldwide to practice climate-smart agriculture. This is wonderful. But what does it mean in practice?
My colleagues and I have been asking ourselves this question since the concept was originally introduced by the UN's Food and Agriculture Organization in 2010. Over the past four years, we've done some hard thinking on which practices, precisely, will get us to a point where we can keep pace with the food demands of a growing global population and increase the resiliency of our food systems to the harsh impacts of climate change.
Defining the catchphrase
As Modern Farmer put it, "everyone agrees that climate change has and will have a disastrous or at least dramatic effect on agriculture," but everyone does not necessarily agree on the appropriate course of action.
We have made some real progress to define and subscribe to a set of next steps that can start to achieve climate-smart agriculture.
To start, we need to get to the root cause. We need to encourage farmers to abandon or significantly reduce their reliance on practices that increase greenhouse gas emissions. After all, what is the point of adapting to climate change if we aren't also making an effort to slow it down? By reducing greenhouse gas emissions today, we are reducing the possibility and frequency of future needs for adaptation.
We are already seeing examples of this taking place in California, where the California Air Resources Board has published draft standard for the development of carbon offsets for farmers who want to earn credits through greenhouse gas reductions. By reducing the amount of methane generated through rice cultivation, a California rice farmer can generate a carbon credit that can be sold to companies to offset their carbon emissions, generating a new revenue stream for the farmer and reducing overall emissions.
Next, we need to reconsider business-as-usual. Current farming strategies are not going to cut it in a world with more mouths to feed and more unpredictable climate conditions. With more frequent and severe weather events, transforming landscapes and increasingly unreliable supplies of water and other inputs, we need strategies that are more flexible, efficient and adaptable than ever before.
In New Mexico, Mike De Smet – an organic, raw dairy farmer – has responded to drought by improving efficiencies. He has laser-leveled all of his fields and transitioned to no- and minimum-till planting to support the productivity of his herd and save water. By enhancing his irrigation efficiency and stewardship, Mike expects to grow his herd to full capacity – around 100 head – in the next five years while simultaneously saving water.
Finally, we need to get high-tech. In order to cut greenhouse gas emissions and improve efficiencies, we need significant investments in new and developing technologies that can help farmers achieve this.
In Ohio, where fertilizer runoff in Lake Erie threatens clean drinking water, recreation and public health, new tools and technologies are being developed to help farmers optimize fertilizer applications in ways that minimize nutrient loss to air and water while increasing or maintaining yields. Together, we have developed platforms – such as the Adapt Network – for testing rates, timing and placement of nitrogen and phosphorus to improve efficiencies and reduce pollution.
With these three next steps in mind, I am confident that we can make significant progress towards achieving climate-smart agriculture.
We also have to remember that, while the term may be relatively new, there are countless farmers out there already practicing climate-smart agriculture.  Sustainability is and always has been at the core of what farmers, ranchers and other producers do as daily stewards of our working lands. Many of them have already proven that these climate-smart practices not only help reduce emissions and increase efficiencies, but also increase yields and, ultimately, revenue.
Now that we have a clear commitment from the United Nations, I look forward to a day, hopefully in the not-too-distant future, where we have achieved climate-smart agriculture on a global scale.