By: Andrew Barbeau, EDF's clean energy consultant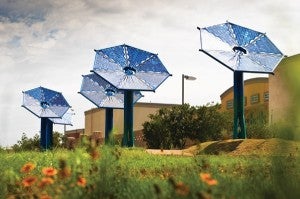 You don't have a south-facing roof. You have too many trees in your yard. You may not be committed to staying in your house for the next ten to fifteen years. Or maybe you rent, or don't have the upfront money to install.
These may be some of the reasons why you can't go solar. You are not alone.
In fact, only 22 to 27 percent of residential rooftops are suitable for installing a solar PV system, due to structural, shading, or ownership issues, according to the National Renewable Energy Laboratory. These effects are even more prominent in densely-populated, urban areas, like Chicago, where viable project siting is limited and renters account for more than half (55 percent) of housing.
But in a new utility world of flowing electricity data and layered intelligence, we shouldn't limit participation in the rapidly growing solar market to those inconvenienced by circumstance. We need to shift our thinking of distributed solar from the individual to the community. Read More »