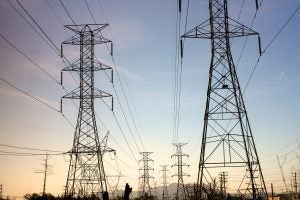 After a record-breaking hurricane season and catastrophic wildfires in California, the vulnerabilities of our electric system – and the urgent need to upgrade it – have never been clearer.
It took more than 10 days of around-the-clock work to restore electricity to 350,000 customers after fires struck California wine country last month. Returning service to all 4.4 million power customers in Florida after Hurricane Irma took almost as long – and 70 percent of Puerto Ricans still lack power six weeks after Hurricane Maria.
Such crippling outages contribute to $250 billion in economic losses globally every year.
But there are solutions available on the market today that can reduce the impact of these outages. By investing in technologies that modernize our electric grid, and with careful planning, we can also create a cleaner and more efficient electricity system overall.
Here are three cost-effective investments in this "modern grid" that could keep the lights on for more people during future storms.
1. Distributed energy systems improve resiliency
A modern grid makes how we make, move, and use electricity easier, more efficient, and cleaner.
Microgrids, for example, can go a long way to improve the resiliency of our electric system. These specialized energy systems can serve a defined area, regardless of whether the main power grid is active, through the use of batteries and localized generation such as solar, wind and other renewable sources.
We saw the value of microgrids first-hand after Hurricane Sandy five years ago. During that disaster, microgrid systems kept the power flowing in spots stretching from Maryland to Manhattan – including at Princeton University's sprawling campus in New Jersey when much of the Garden State was blacked out.
Today, there are about 160 microgrids operating in the United States, and the capacity of such systems is expected to double between 2016 and 2020.
These systems can be complex, however, and some of the rules governing the energy provided by such sites have yet to catch up with advances in technology or society's need. It explains why they have not been adopted at the scale required to meet our demand for resiliency.
More can be done at the state and local level to revise these outdated rules and provide education and technical support to customers and facilities that could most benefit from microgrids.
2. New technologies detect outages faster
The electric system has been around for a very long time, but has yet to fully harness many of the same digital tools that have modernized internet-based communications.
Sensors, controls and other advanced technologies can be used to remotely detect and manage outages with better accuracy and results. What's more, many of these same solutions can reduce energy waste by making the delivery of electricity to homes and businesses more efficient.
After a few initial pilots in 2013, Duke Energy expanded some of these energy saving applications to cover nearly all of its electrical circuits in Ohio. The utility has reliably reduced its voltage levels by 2 percent, cutting waste and saving customers money while reducing pollution.
We think more utilities could stand to gain from such tools.
3. A redesigned and measured grid is stronger
To build a more resilient grid, utilities must work together with their customers to identify conditions that make their systems vulnerable and to develop practicable solutions.
Together with local leaders, consumer advocates, environmental groups and other stakeholders, a system can be designed to meet the area's unique needs and to quickly bounce back after disruptions.
That can mean burying power lines underground and reaching an agreement with power customers and regulators on how to pay for the associated capital costs – or replacing wooden poles with steel or other materials where burying lines isn't the right solution.
But utilities must also measure their own success. Without knowing how grid upgrades have prevented or limited outages, they'll have difficulty knowing which investments have the biggest impact.
Our society's reliance on electricity has grown over the last several decades, but so have the sources of potential outages. A more robust planning process and upgrades that fully account for these changing system conditions will help us establish the sustainable and resilient electric system we need.
Photo source: Flickr/Oran Viriyincy
This post originally appeared on our EDF Voices blog.