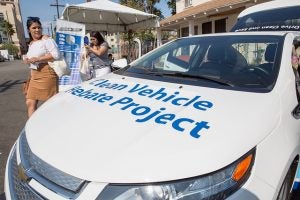 The Greenlining Institute partners with Environmental Defense Fund (EDF) and is a policy, research, organizing, and leadership institute working for racial and economic justice. They recently released a report highlighting how inclusive policy can make electric vehicles accessible to all. Here at EDF, we know clean energy policies cannot be truly transformative without accessibility across all income levels and among all communities. Indeed, that is the only way we will accomplish our goal of curbing harmful climate change.  
By: Joel Espino, Legal Counsel, The Greenlining Institute
State programs that help low-income Californians access electric vehicles (EVs) mark a big step in our fight against poverty and pollution.
Cars, buses, and trucks are the biggest source of global-warming pollution in California – creating nearly 40 percent of the state's total emissions. This makes tens of thousands of Californians sick, costs us billions in avoidable health costs, and causes twice as many deaths as traffic-related accidents. Vehicle pollution hurts low-income neighborhoods and communities of color the most because they are more likely to be located near busy roads and freeways, exposing them to dangerous levels of pollution. Paired with the fact that low-income families spend a disproportionate amount of their income on gas and public transit fares, the substantial burden of transportation on our poor communities is clear.
However, if drawing on renewable energy, EVs have the potential to dramatically reduce pollution as compared to their gasoline-powered counterparts and save folks money. From well-to-wheels, EVs produce fewer emissions than gas-powered cars and are cheaper to power and maintain. That's why in 2014 we at The Greenlining Institute worked with Communities for a Better Environment, Coalition for Clean Air, Environment California, and the Natural Resources Defense Council to pass the Charge Ahead California Initiative. This law works to place 1 million EVs on California's roads by 2023 and ensure all Californians, especially lower-income households most impacted by pollution, can access clean cars.
We've learned a lot from implementing this initiative. Now, those lessons are illuminated in a comprehensive online tool, "Electric Vehicles for All: An Equity Toolkit," to help policymakers and advocates make EVs a reality for underserved communities by providing tools, tips, and resources. In particular, five important steps can ensure EV benefits reach all communities: Read More »