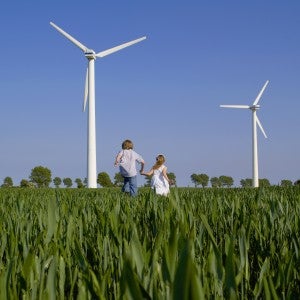 By: Ellen Eilers, Moms Clean Air Force Ohio
In a post-Paris world, where nearly 200 countries have pledged to act on climate disruption, climate denial is fast losing its viability.
And toward the end of last year, White House Senior Adviser Brian Deese discussed the impact of global climate action on renewable energy, saying the historic Paris agreement "sends a strong signal to the global capital markets that something has fundamentally changed. [It] sends investors a signal that clean and renewable energy is the future."
That signal seems to have faltered here in Ohio. Our state renewable energy and energy efficiency standards are still held in an "indefinite freeze." Recent talk from Governor John Kasich, however, provides hope that we could soon see Ohio back on the path to a cleaner energy future.
Let's rewind. In 2008, Ohio signed into law progressive clean energy standards, which the Ohio Legislature then froze in 2014. In doing so, it created the Energy Mandates Study Committee to study the effects of the legislation and provide energy policy recommendations.
[Tweet "Protect Our Families: Bring Back Ohio's Clean Energy Standards"]
After months of one-sided hearings, the Committee issued its report in September 2015, which included a recommendation that Ohio lawmakers enact an "indefinite freeze" of our state renewable energy and energy efficiency standards. This means the state requirements for gradual increases in cleaner sources of energy and energy efficiency would remain dismantled, and investments in Ohio's energy future would decline.
Ohio parents want reasonably priced energy options that do not put our children's health at risk. When a state invests in clean, sustainable energy sources and energy efficiency programs, there are dramatic savings to customers and a corresponding reduction in harmful emissions, giving us the best of both worlds. That is why the 22,000 members of Moms Clean Air Force in Ohio – a community of moms and dads united against air pollution – are so deeply disappointed in those members of the Energy Mandates Study Committee who chose to recommend an indefinite freeze on our clean energy standards.
But there's hope. Governor Kasich did the right thing in saying he found these recommendations "unacceptable." And recently, Columbus Business First reported "Kasich told a town hall about the 'battle' with some legislators over the clean energy standards." He went on to say, "if the legislature wants to gut it, then I'm going to go back to the goal that we had, which was unpalatable." In other words, although he still is not supportive of the original standards, he clearly thinks having some are better than having none. Furthermore, just last weekend, Governor Kasich said, "I know we need to develop all of the renewables, and we need to do it in an orderly way." Statewide standards seem like an orderly pathway to us.
We hope he will now choose to call for the return of the renewable energy and energy efficiency standards, or the creation of a suitable alternative. In the six years prior to the freeze, these important measures already resulted in more than $1 billion in consumer savings on electric utility bills, 25,000 jobs created, and tremendous reductions in harmful emissions. It is time for Governor Kasich to demonstrate his support for the health of Ohio's families by advancing legislation that protects our children.
Moms Clean Air Force Ohio is a founding partner of the Ohio Energy Table, a statewide coalition of environmental, conservation, health, faith, and labor partners working to promote clean energy and energy efficiency. Through our participation in the Energy Table, we work closely with state lawmakers and administration officials on energy decisions.