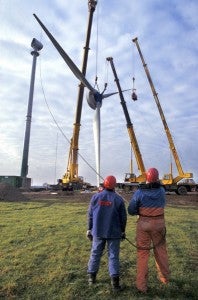 Ohio shot itself in the foot last year and we're only now learning just how bad the damage is.
In May of 2014, the Ohio Legislature froze the state's energy efficiency and renewable energy standards as a result of political pressure from Ohio's largest power company, FirstEnergy, and other groups. This freeze came after efficiency measures led to more than $1 billion in savings for Ohioans, clean energy companies invested more than $660 million in 2012 alone, Ohio boasted the nation's largest number of wind-component manufacturing facilities, and the state created 43,000 in-state jobs within the clean energy sector.
Needless to say, from 2008, when Ohio enacted its clean energy standards, to 2014, when it froze them, the Buckeye State was a clean energy powerhouse. But, as the Center for American Progress reports, when Ohio put a freeze on its clean energy economy, it hit the pause button on its entire economy.
According to the report, the freeze cost Ohio millions of dollars in energy investment. That equates to job losses, cancelled projects that would have brought sustained tax revenue to Ohio, and shifting operations to other, business-friendly states.
[Tweet "New Blog Post from @DickMunson: #Ohio Pressed Pause on Economic Growth When It Froze Its #CleanEnergy Standards"]
As an example, 75 wind turbines were planned for installation in the state before the Legislature's action, now only two are planned. Specifically, the Legislature increased the property setback requirements for wind projects, meaning wind turbines must be a certain distance from property lines, effectively making it harder to develop renewable energy. It also permanently eliminated the in-state requirement for renewable energy all together. Given these energy resources lower the demand for utility-generated electricity, it should come as no surprise that FirstEnergy, the giant utility, led these anti-clean-energy efforts in order to block competition and bolster its uneconomic coal-fired power plants.
Plain and simple, investment and jobs are now leaving Ohio because of the Legislature's actions (and FirstEnergy politicizing).
The Center for American Progress isn't the only one shedding light on the economic impact of this freeze. Many clean energy investors and developers have aired their opinions on the unfriendly business environment in Ohio. Here are a few examples:
"At a certain point, it becomes irrational to continue hitting your head against a wall in Ohio." – Executive from Iberdrola, a large wind-energy developer, on shifting its focus from Ohio to other states.
"Our confidence in Ohio has changed and we are developing projects elsewhere in the country." – Developer with EverPower, a wind power company.
"We are spending less time on developing projects in Ohio and more in other states that are more serious about growing investment and jobs." – Representative from Melink Corporation, a solar energy developer.
"As opposed to hiring, we're pulling resources out of Ohio and looking at focusing elsewhere." – Developer with Energy Management Solutions, an energy efficiency specialist.
Ohio can regain its clean-energy powerhouse status, including the investment and jobs that come with it. What the state needs are forward-looking policies that ensure the market places a fair value on the benefits of efficiency and renewable energy, while not subsidizing the status quo.