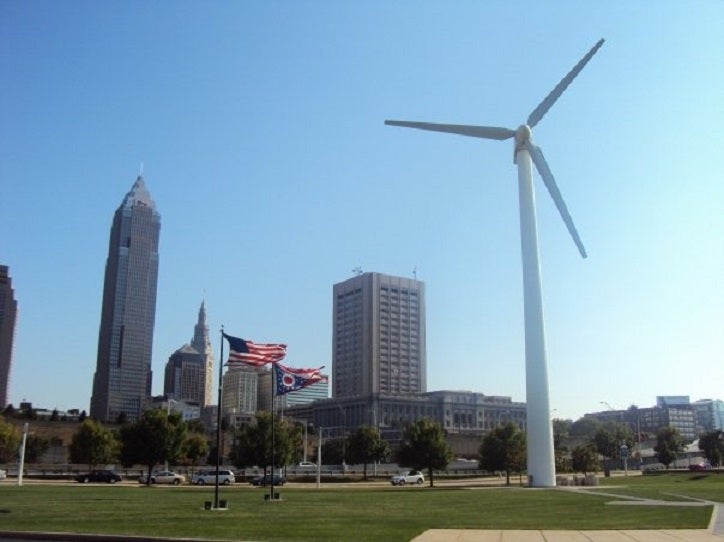 Chris Prandoni certainly is welcome to his own opinions, but not his own facts. As the Director of Energy and Environmental Policy at Americans for Tax Reform, Prandoni may favor coal-fired power plants and dislike energy efficiency and renewables, but there's no doubt Ohio's clean energy standards are saving consumers money and bringing huge investments into the state.
Prandoni supports S.B. 310, which has already passed the Ohio Senate and is expected to enter the House within the next week, and promises to kill the state's renewable portfolio standards (RPS) and energy efficiency directives. If Prandoni has his way, and as he points out in his misinformed Forbes op-ed, Ohio would be the first state in the nation to "pare back" its clean energy mandates, but this is not something Ohioans should be proud of.
Despite Prandoni's claim, the fact is Ohio utilities admit the clean energy standards are saving money. In filings to the Public Utilities Commission of Ohio (PUCO), the power companies admit energy efficiency programs alone have netted Ohio consumers more than $1 billion in savings to date, and will result in more than $4.1 billion in savings over the program's life.
Ohio utility American Energy Power (AEP) argued energy efficiency "is an important resource for the state of Ohio, AEP Ohio, and its customers, continuing to be important as future fuel and commodity prices remain volatile and environmental regulations become more stringent."  Even FirstEnergy, the leading proponent of S.B. 310, admitted that for every $1 spent on energy efficiency programs, its customers save over $2.
The standards, in fact, are advancing competition and providing consumers with choices about what forms of energy they can purchase. What Prandoni and S.B. 310 advocates are doing is strangling that competition and choice.They also are hurting Ohio consumers. According to 
calculations
 by professors at Ohio State University (OSU), the proposed scuttling of the state's clean energy laws would force the average Ohio family to pay over $500 more on their electricity charges, and the average business would pay an additional $3,000 annually.
The passage of S.B. 310, moreover, would stall the state's economic development. OSU also found that existing clean energy laws have helped 400 companies grow and employ 25,000 Ohioans. The standards have attracted more than a billion dollars of private-sector investment, helping make the Buckeye State the nation's leader in wind-related manufacturing.
Governor John Kasich has taken great pride in his clean energy leadership. The website JobsOhio, the governor's privatized economic development agent, boasts: "Ohio ranks No. 1 in the nation for renewable and advanced energy, bringing in more renewable energy facilities than any other state." It further declares, "Ohio is committed to leading the world to energy independence with advanced energy innovation, groundbreaking manufacturing processes and low-cost deployment of these assets to fulfill current and future demand for alternative energy solutions."
The standards enjoy support from many of the state's leading companies – including Honda, Johnson Controls, Schneider Electric , Whirlpool, United Technologies, and Owens Corning – who are speaking out against S.B. 310. Employing more than 30,000 workers, the firms stated, "We believe that policies promoting efficiency should continue to be a part of Ohio's plan to attract economic investment and encourage growth." S.B. 310, they said, "would negatively impact programs local utilities run to trim energy consumption, and help stabilize the state's electricity grid and prices." The clean energy standards, the companies argued, "provide business prospects and jobs for contractors across the Buckeye State," and such policies are "a low-cost strategy for keeping utility costs under control and providing protection against price volatility, which enhances competitiveness for our companies."
Even the Ohio Manufacturers Association supports the clean energy standards, arguing that the falling prices of wind energy and solar collectors, along with energy efficiency, make clean power the most cost-effective way to meet the state's energy needs.
The religious and evangelical communities also have been supportive. A recent letter from all Ohio Bishops, stated, "We ask you to prayerfully consider if it would be more prudent for the sake of environmental stewardship to maintain our current policies and not freeze these standards."
This broad coalition knows the facts – Ohio's clean energy standards are working and S.B. 310 would hurt the state's businesses, workers, and consumers.
This commentary originally appeared on Forbes.