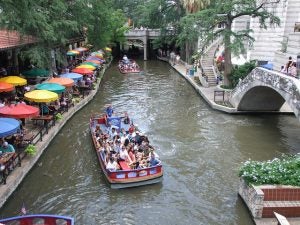 By Kate Zerrenner, Jaclyn Rambarran
On May 5, 2018, the city of San Antonio will officially be 300 years old! On that day in 1718, the Presidio San Antonio de Béxar (a Spanish fort) was founded. The city's tricentennial celebration will culminate in a weeklong celebration of history, art, and culture the first week of May.
San Antonio is a unique place that should be honored in Texas and beyond. In addition to its strong Hispanic heritage, the city boasts a large military population, straddles the border between eastern, western, and southern U.S., and claims to be the birthplace of breakfast tacos.
This growing city also has a powerful role to play in the future of Texas and the United States in terms of climate change and air quality, as evidenced by its initiatives around renewable energy, the energy-water nexus, and climate action. With all this in mind, let's take a moment to celebrate not just San Antonio's momentous birthday, but also its impressive efforts to ensure the sustainability of the city going forward. Read More »