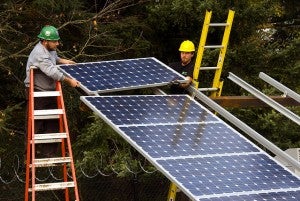 At the start of the 2015 Illinois legislative session, a diverse coalition came together to introduce and support the Illinois Clean Jobs bill – legislation which would strengthen Illinois' energy efficiency policies, as well as update and extend the state's Renewable Portfolio Standard (RPS). The bill would also create a market-based strategy to meet new federal carbon regulations to limit carbon emissions from existing power plants, otherwise known as the Clean Power Plan (CPP).
So now that the regular legislative session has ended, where does the Clean Jobs bill stand?
A victory for the little guy
Initially, the Clean Jobs bill was far from the energy legislation spotlight. Two deep-pocketed companies also introduced bills. Exelon proposed a bailout for three of its uneconomic nuclear reactors. And Commonwealth Edison (ComEd) wanted to restructure its rates to ensure a profit because efficiency and clean energy had reduced the demand for power.
Most political observers felt Exelon and ComEd – which employ teams of lobbyists and enjoy substantial political clout – would quickly obtain what they asked for. Yet neither went anywhere, and it was actually the Clean Jobs legislation that obtained more co-sponsors than the Exelon and ComEd bills – combined. Read More »