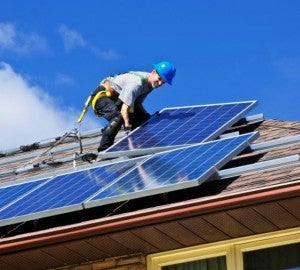 Labor, business, and environmental leaders have formed a unique coalition that will urge Illinois lawmakers to pass new standards for energy efficiency and renewable energy, leading to tens of thousands of new, local jobs.
Members of the Illinois Clean Jobs Coalition, including Environmental Defense Fund, argue that the state should not settle for an old stagnant energy system – one that struggles to meet new Environmental Protection Agency clean energy standards, raises electricity prices for families and businesses, and fails to create new jobs. Instead, we should move decisively toward a cleaner, more reliable, and affordable energy future that increases employment right here in Illinois.
More than 100,000 individuals across the state already work in the clean energy industry, exceeding the number employed in the state's real estate and accounting sectors combined. That figure is growing at an impressive rate of nine to 10 percent annually. Coalition members predict even sharper job growth if lawmakers embrace their recommendations for spurring a clean energy economy in Illinois, including:
Revising the Renewable Portfolio Standard (RPS) to increase the share of power coming from renewable sources, like wind and solar, to 35 percent by 2030;
Increasing energy efficiency standards to reduce electricity use in Illinois by 20 percent by 2025, creating tens of thousands of new jobs for people who design efficiency measures, weatherize buildings, and upgrade appliances and technologies in homes and businesses;
Supporting market-based strategies to reduce carbon pollution. Members said that a new revenue stream could be used to invest in areas such as workforce development, low-income bill assistance, and research and development for new clean energy technology.
These principles and the work of the Clean Jobs Coalition are particularly relevant because of two recent developments. First, the U.S. Environmental Protection unveiled its proposed Clean Power Plan last year, which would set the nation's first ever limits on carbon pollution from existing power plants. Meanwhile, Exelon is reportedly preparing to seek a bailout funded by Illinoisans for as much as $580 million to prevent threatened closures at some nuclear plants. Instead of watching other states capitalize on the Clean Power Plan and prosper, or stagnating the state's economic growth by doubling down on aging power plants, this coalition aims to make Illinois the hub of America's clean energy future.
[Tweet "There is overwhelming support for clean energy to meet Illinois' future energy needs. Jobs await. www.edf.org/c2c"]
Fortunately, there's a lot of clean energy support among Illinoisans that reinforces what the Clean Jobs Coalition is advocating for.
Many Illinois leaders have gone on record supporting changes in energy standards. Before taking office, Gov. Bruce Rauner said that he supports expanded energy efficiency, restructuring the Renewable Portfolio Standard, and "increasing investment in clean energy." In December, 53 state legislators signed an official comment letter signaling their support for the Clean Power Plan.
Recent polling shows overwhelming support for clean energy to meet Illinois' future energy needs. Three out of four voters (75 percent) support increased energy efficiency, 67 percent support more solar, and 59 percent support wind. By contrast, just one-fifth support more nuclear power (19 percent) or coal (21 percent).
EDF is proud to join forces with other environmental groups, such as Natural Resources Defense Council and Sierra Club; consumer advocacy groups, including Citizens Utility Board; labor unions, including the Chicago Building Trades; and businesses, including SoCore Energy and Schneider Electric, to spur a clean energy economy in Illinois – one that leaves a healthier environment for future generations and creates tens of thousands of new jobs across Illinois.
Photo source: iStock