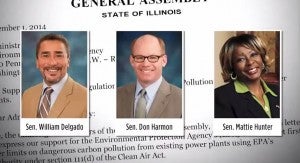 While the Environmental Protection Agency (EPA) sorts through the more than 1.6 million comments received on its proposed Clean Power Plan (CPP), one group is stepping out to pledge its support of the landmark proposal. 53 Illinois legislators recently signed a letter urging the EPA to finalize the plan, which will set limits on carbon pollution from existing power plants for the first time ever.
Power plants currently account for nearly 40 percent of the nation's carbon pollution and Illinois's proposed target would result in a 33 percent reduction in the state's carbon output by 2030. Fortunately, due to impressive state efforts to invest in clean energy over the past few years, Illinois is well-positioned to meet the challenge.
CPP is an economic opportunity
The Illinois legislators argue the CPP will help the state "achieve even greater cuts in our emissions, health benefits for all our citizens, and will spur further growth in our state's economy." The CPP will further the state's transition to a clean energy economy by attracting investment in innovation, creating more jobs, and keeping electricity prices affordable.
Illinois is already home to nearly 100,000 clean energy jobs, and that number is expected to grow nine percent this year. To put that into perspective, the clean energy sector is roughly equal to the size of the state's real estate and accounting industries combined.
Furthermore, the state's energy efficiency standard, established in 2008, has already saved consumers nearly a billion dollars.[Tweet "Illinois legislators say Clean Power Plan will have health benefits and spur growth in state's #economy http://ow.ly/FG89G "]
Illinois supports the EPA, clean energy
These members of the General Assembly said the EPA has both the clear authority as well as the responsibility to reduce greenhouse-gas emissions that contribute to global warming. Unlike some states that have reacted to the plan with the-sky-is-falling predictions, Illinois state leaders "pledge to work with both U.S. EPA and Illinois EPA to ensure we have a strong plan that works for Illinois to reduce carbon emissions."
This kind of support is a clear choice for Illinoisans; clean energy is popular in the Land of Lincoln. Hart Research found a whopping majority of Illinois voters – 71 percent – support EPA enforcing new limits on carbon pollution. A separate poll by Fairbank, Maslin, Maullin, Metz & Associates (FM3), and Public Opinion Strategies found remarkable support for investing in clean energy: 95 percent for energy efficiency, 88 percent for wind energy, and 80 percent for solar energy.
To thank the legislators for their leadership, a coalition of environmental groups produced a short video featuring Tony Award-winning director, Anna D. Shapiro:
EPA's final rule is expected by June 2015, after which each state must develop an implementation plan to reduce carbon pollution and meet its target. EDF looks forward to continuing its work with legislators and regulators on the development of an effective plan that builds on Illinois' already substantial clean energy progress.