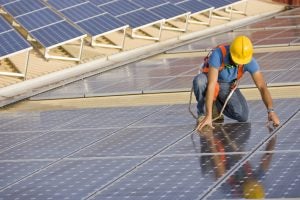 The California State Assembly faces an enormous opportunity when they come back from summer recess today: to drive the state towards 100 percent clean energy by 2045.
It comes in the form of SB 100, a bill that would accelerate the state's current Renewable Portfolio Standard (RPS) requirement from 50 percent to 60 percent by 2030 and set a statewide policy to get to 100 percent clean energy by 2045. In the wake of recent legislation to extend a cap and trade system for greenhouse gases, this effort will help us to reduce climate and air pollution from the electricity sector.
California is already ahead of schedule in reaching its goal of 50 percent renewables by 2030. In fact, according to the California Public Utilities Commission, utilities are already on contract for an average of 43 percent renewable energy by 2020 – a huge accomplishment worthy of applause.
The difficulty is that once these targets are met, we anticipate clean energy development and installation will slow, meaning fewer clean energy jobs and less investment in California. We need SB 100's ambitious goal of 100 percent renewables to keep up economic growth. Read More »