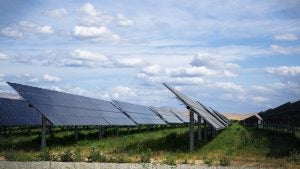 California is a leader, and has earned that title – it is the largest state economy in the U.S. and the sixth-largest economy in the world.  Forward-thinking clean energy policies are the backbone of California's prosperity, creating jobs and businesses for the state while cutting emissions. While the presidential administration assaults critical environmental protections nationwide, clean energy momentum is unstoppable. California's leadership is committed and poised to move forward.
Energy policy drives economic growth
Most energy policy is done at the state level, reflecting that energy management is a fundamental concern for local residents and their livelihoods. How we make, move, and use power can create jobs and protect citizens' rights to clean air and energy choice. The following bills currently in front of the California State Legislature illuminate the state's path forward:
SB 584 (De Leon) – This bill proposes increasing our current Renewable Portfolio Standard (RPS) – a requirement that utilities meet half of sales with clean, renewable energy sources – to 100 percent. While the means are still being determined, the ambitious spirit of 100 percent is clear. As California's leaders consider how best to reach a 100 percent renewable energy goal, they should consider investing in and developing a variety of clean energy options that can ensure the grid stays clean, balanced, and reliable.
SB 356 (Skinner) – This bill increase access to data about the whole energy system. Information makes it easier for businesses to develop and deploy new clean energy technologies and help bring clean-tech jobs to the forefront of our economy. It also ensures the state will have important information about the energy use of its buildings and properties.
AB 726 (Holden) – This bill takes advantage of smart meter technologies by requiring utilities to notify customers before their bills get too high, thereby avoiding "unpleasant surprises." Through this increase in information, customers can become more active participants in their energy usage and reduce their costs.
SB 366 (Leyva) – SB 366 helps ensure all our communities are able to take part in the clean energy revolution and reap the benefits of lower electricity costs and cleaner air. Specifically, it clears the way for community solar projects in disadvantaged communities and supports well-paying green-collar jobs through local training programs. Unlocking community solar is a key to helping communities overcome physical and economic barriers (like not owning your home or not being able to afford the upfront costs of solar) to accessing clean energy.
AB 1431 (Arambula) – AB 1431 will increase access and participation in energy efficiency, weatherization, and renewable energy programs for low-income, disadvantaged communities. It creates a comprehensive database to track program participation and a working group in which state agencies and stakeholders can exchange views on how to make these programs better and increase participation. This combination of data and dialogue will allow for a comprehensive analysis of all related state clean energy efforts.
In some ways, how we bring these resources onto the grid is as important as the resources themselves.
Big, bold benefits of renewable integration
Not only do renewables create clean-economy benefits, so does renewable integration. In some ways, how we bring these resources onto the grid is as important as the resources themselves. A thoughtful approach to incorporating increasing levels of renewables includes establishing a strong, diverse portfolio of clean energy resources.
[Tweet "California's clean-energy leadership continues"]
Each solution has environmental and economic benefits, and each works hand in hand with the RPS to create a totally clean energy system – functioning like two sides of the same coin. In California, we can and should develop clean technologies that will "back up" renewable generation, like automated demand response, time-of-use rates, and electricity storage, including the use of electric vehicle as batteries.  It also means looking beyond California's borders and considering how the state can best sell our excess clean energy when we don't need it, like our abundant midday solar, and buy cheap, clean energy from other states when the sun isn't shining.
California clean-energy leadership continues
California is working hard to create an economy that runs fully on clean, renewable resources. That's why our legislators should pursue these innovative policies. We know this action is more important now than ever. And no one is more ready to demonstrate how clean energy policy can be an economic boon than California.
Photo source: iStock/halbergman