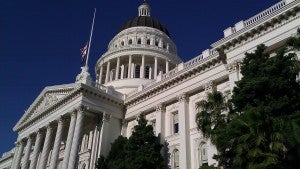 After a long and hard-fought legislative session, the dust is settling in California's capitol. Many forward-looking clean energy bills sit on Gov. Brown's desk, while others did not make it that far. It's a time when legislative staff and advocates step back, breathe a sigh of relief, and take stock of what has been accomplished, what was lost along the way, and – most importantly – what remains to be done.
AB 1937 (Gomez) – a bill to avoid new natural gas plants in heavily burdened communities – and other key energy bills await the governor's signature. Efforts to expand the entity that manages our electric grid, the California Independent System Operator (CAISO), also continue. For the state to realize its vision of an economy powered by clean energy resources, it is crucial Gov. Brown sign these key energy bills and work closely with the legislature to expand CAISO.
Exciting progress
The California State Legislature advanced several important energy and climate bills to the governor's desk this year. Here at Environmental Defense Fund (EDF), we give them all heartfelt congratulations because continuing California's climate and energy policy leadership is vital to the state's economy, the health of our citizens, and our ability to lead in clean energy technology development. And the Golden State has proven all this can be done in a way that expands consumer choice. For this reason, we see the following bills as particularly significant to sign into law:
AB 1937 requires utilities, in their procurement plans – which describe how they will obtain electricity to sell – to actively look for and give preference to new fossil fuel plants outside areas already suffering from significant pollution. Instead, they will be prompted to draw on the benefits of clean, renewable power in these communities. It further assures regulators and utilities follow the the state's loading order – a preference for low-cost, clean resources like energy efficiency and renewables – before the California Public Utilities Commission (CPUC) approves new fossil fuel plant contracts.
AB 2454 (Williams), requires the CPUC to use the latest studies of demand response potential in determining the availability of resources that reduce energy demand. Demand response is a technology that rewards customers who use less electricity during times of peak, or high, demand, relying on people and technology, not power plants, to meet electricity needs. The bill will help bring more high-value demand response to California by ensuring the CPUC makes decisions based on the most up-to-date information regarding the kind of demand response available and what it can do to reduce costs and California's reliance on fossil fuels.
These pieces of legislation will help bolster California's reliance on low-cost, clean resources like demand response, energy efficiency, and solar if signed. In turn, they will yield critical environmental, health, and economic benefits improving the quality of life for communities and people across California.
[Tweet "Post-Legislative Session, California Is closer to Important New Clean Energy Laws"]
 The work ahead and what was left on the table
Normally, after the legislative session and the bill-signing period, legislative staff and advocates enjoy a recess reminiscent of summer break: they relax, have fun, go hiking, and enjoy a relatively slow period, but in beautiful fall weather. Not this year, though, at least not for those of us working on an effort to create a western regional energy market. By expanding California's grid beyond its borders to connect with grid operators throughout the west, the region can share resource more easily and efficiently. Specifically, the geographical size of a western regional grid would help integrate more renewable energy resources. We'll continue working steadily on a "CAISO expansion" proposal for Gov. Brown to present to the legislature first thing next session in January.
Specifically, the geographical size of a western regional grid would help integrate more renewable energy resources.
This is good news. Not only is a regional market capable of integrating renewables and reducing harmful pollution, this extra time provides an opportunity to ensure it does so in a way that benefits California and the other participating western states. This requires establishing a tracking mechanism to understand how a regional grid might affect greenhouse gases throughout the region, securing rights for clean energy, environmental, and other stakeholders chosen by the states, and ensuring all states' policies are respected.
Finally, the end of the legislative session usually includes reflection on what did not make it through the process. Although AB 2460 (Irwin) was held in Senate Appropriations in early August and, thus, will not make it to the governor's desk, we want to acknowledge Assemblymember Irwin for pursuing it. AB 2460 would have extended through 2022 the life of a solar water heating program set to expire in 2017, with half of the program's budget directed towards low-income housing and disadvantaged communities. California needs leaders like Irwin who will continue to pursue exciting clean energy opportunities with a focus on the communities that need them the most.
Clean energy leadership
With the legislative session now behind us, we thank California legislative leadership for their hard work and urge the governor to sign these and other important clean energy bills now sitting on his desk. By protecting communities burdened by pollution from more natural gas fired power plants in their back yards, and opening the door for more demand response, AB 1937 and 2454 represent huge steps forward for clean energy in California. Together they will help all Californians breathe a little easier and increase our access to cost-saving clean energy. And we will continue working with the governor and legislature during the recess to create a regional energy market. In doing so, we can hit the ground running when the legislature reconvenes in January.