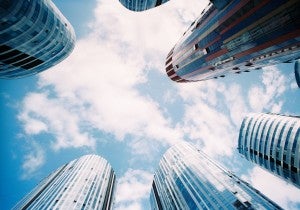 "I am the Lorax. I speak for the trees. I speak for the trees for the trees have no tongues." – Dr. Seuss, The Lorax.
As a child, that line from the classic Dr. Seuss book struck a chord in me, far beyond the giggle it caused when I thought of trees having tongues. The quote clearly imprinted the idea that – when a situation needs attention – those who can speak, should. For me, one of those situations is sharing the good news that energy-efficient buildings are cleaner and smarter than ever.
Buildings can be big polluters: 70 percent of the world population will live in cities by 2050, adding 40 percent to the current world building stock. As energy-efficient structures develop in growing countries, the U.S. can help stay competitive by retrofitting its existing buildings. Plus, improving building efficiency can contribute to reductions in global CO2 emissions from buildings by 83 percent below business-as-usual by 2050, reports the World Resources Institute.
I believe we are well on our way to creating a cleaner, smarter energy future. My optimism is fueled by efficiency trends in three important arenas: people, places, and partnerships.
People
People are demonstrating they understand just how important efficiency is in their daily lives. According to a recent study, homeowners actually value ENERGY STAR rated appliances (which have been given an efficiency stamp of approval by the Department of Energy) over other, more aesthetic luxuries, like a pool or a state-of-the-art sound system. The greater value being placed on smart energy options has contributed to the use of less electricity in the U.S. and less climate-harming pollution.
[Tweet "3 Reasons We Can Feel Good about Where Energy Efficiency is Headed"]
And adults aren't the only ones getting in on the action. Girl Scouts and their families participated in a recent youth-energy program that proved educating girls on the value of energy savings not only influenced their behavior in a positive manner, but also led to shared activities that drove energy conservation measures at the household level as well. In other words, educating kids helps their families save electricity.
Places
And by places, I mean the "trees" I get to speak for: buildings. A number of recently released studies indicate that commercial buildings are using less energy. Increased interest and investment in energy efficiency – through technologies like LED lighting; heating and air conditioning upgrades; and Building Automation Systems (BAS) – is driven by passionate building managers, who are promoting the twin concepts of financial and social value.
Where once only larger properties could afford to invest in efficiency, the small and medium-size commercial building energy efficiency market is now poised to grow over $13 billion in the next 10 years. Smaller buildings typically have less staff and access to funding; but now, due to emphasis on energy management and its ability to improve bottom lines, smaller buildings are also beginning to explore simple energy efficiency upgrades and more complex retrofitting opportunities.
Partnerships
States across the country, including Illinois, New York, and California, are working on legislation that values clean energy and aims to make communities more energy efficient. Despite the variability in each state's goals, it's promising that energy efficiency standards can lead political, environmental, business, and consumer advocates to work together constructively.
Remember, many voices are "speaking for the trees" or, more accurately, speaking to the imperative that we leave our world better – and more efficient – than we found it.
A key example of policy already generating financial and efficiency wins is Illinois' 2011 Energy Infrastructure Modernization Act. This legislation, which mandated the modernization of Illinois' electric grid, led to multiple collaborations between environmental groups, consumer advocates, and utilities. So far, it has produced groundbreaking metrics to measure the clean air benefits of smart-grid investments, as well as energy savings for commercial real estate and improved grid resiliency in the state. This work in Illinois offers the opportunity for replication across the country.
We are on track to create a cleaner, smarter energy grid that will help us reduce harmful greenhouse gas pollution. By harnessing the enthusiasm of everyday energy users, taking advantage of the efficiency opportunities in the built environment, and building on legislative advancements already underway, we can leave the next generation with a proud legacy of innovation and leadership. Remember, many voices are "speaking for the trees" or, more accurately, speaking to the imperative that we leave our world better – and more efficient – than we found it.