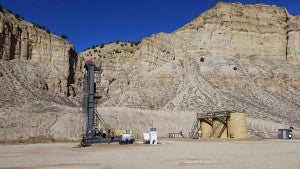 After several years of collaboration among regulatory experts from across the country, the Groundwater Protection Council (GWPC), recently published a set of 136 "Regulatory Elements" intended to provide regulators with ideas to consider when improving oversight of the permitting, construction, operation and plugging of oil and gas wells.
This may sound dry, but regulations addressing these elements are what keep oil and gas wells from blowing up during drilling or later leaking methane, oil, saltwater, hydraulic fracturing fluid, and other contaminants into air or groundwater.
With over 15 million Americans living within a mile of a well, strong rules on well integrity covering the wide variety of topics addressed in these elements make a huge difference to human health and the environment.
The elements were derived from a topical outline of the Model Regulatory Framework for Well Integrity for Hydraulically Fractured Hydrocarbon Production Wells, which was developed through a collaboration between EDF and Southwestern Energy, and which many states use to update and improve their well integrity rules. Texas is a notable example: in 2013 the state adopted dozens of these provisions, and blowouts in the state fell 40% the next year.
Regulators have consulted, and we hope will continue to consult, this list to ensure that all of the issues related to the development and operation of hydraulically fractured oil and gas wells are adequately covered in regulation. Practices and technologies continue to evolve and so too will these elements, but in EDF's opinion they are the best pick list of important issues out there on this topic.
Moreover, as GWPC Executive Director Mike Paque suggests in the report preface, while this list is oriented toward production wells, many of the principles  are applicable to waste disposal wells and gas storage wells (indeed, many of these specialty wells are essentially converted oil and gas wells). Agencies developing gas storage rules – particularly the California Division of Oil, Gas and Geothermal Resources and the Pipeline and Hazardous Materials Safety Administration – should consider these elements, to get a sense of the scope of activity appropriate for regulation.