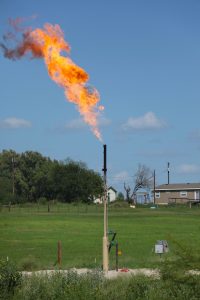 Routine flaring at oil and gas production sites in Texas has been a chronic issue for years, as the rampant process burns off viable fuel product while emitting carbon dioxide, methane and toxic pollutant emissions into the atmosphere. Yet momentum for eliminating the practice is building among investors, operators and landowners, pushing the state's regulatory body, the Texas Railroad Commission, to consider new flaring policy.
Several major operators, such as Chevron and Pioneer, have already significantly reduced flaring rates to less than 1%. In a recent blog touting Exxon Mobil's greatly improved Permian flaring performance, the operator stated their experience, "demonstrates that zero routine flaring is within everyone's reach."
But as J.P. Morgan Asset Management stated in a recent flaring report, "voluntary operator actions to reduce routine flaring, while necessary, have proven insufficient to deliver on the industry's full potential," while reiterating "zero routine flaring by 2025 represents an important and achievable goal." In order to achieve this goal, policymakers must step in to ensure widespread adoption and outline actionable goals.