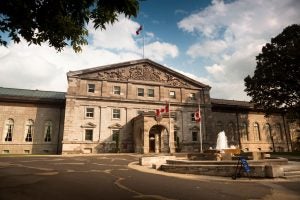 This piece was originally published in The Hill Times
Pundits are wringing their hands over Canada's frustrated bid for a temporary spot on the United Nations Security Council. But perhaps Canada was auditioning for the wrong role. What if the undeniable but short-term prestige has kept critics from recognizing a greater, more important place for Canada on the global stage — at precisely the moment it's most needed?
Climate change looms as an ever-larger threat not only to the world's economies, but to civilization as a whole. As a major fossil fuel producer and innovative leader in environmental stewardship, Canada is uniquely poised to help usher in a new era of low-carbon energy, both through actions at home and by bringing other countries along through U.N. and other international auspices.
Canada has been an especially influential leader on methane, a potent greenhouse gas with more than 80 times the 20-year warming power of carbon dioxide. Cutting methane pollution from the oil and gas industry is our single fastest, most cost-effective opportunity to slow the rate of warming right now, even as we continue to decarbonize the global energy system.
The Trudeau government adopted the world's first nationwide methane emission regulations in 2018. More recently, its energy stimulus plan announced dedicated CA$1.7 billion to keep oil and gas workers employed through the downturn by cleaning up the tens of thousands of orphan and abandoned wells leaking methane and other pollution into the air and water. The plan also creates a CA$750 million fund to reduce methane and other emissions from current oil and gas facilities.
Together, the measures are expected to create up to 10,000 jobs. The plan sends a clear signal that even in the midst of the COVID disaster, Canada will address both the immediate needs of a critical part of its economy and the longer term necessity to stabilize the climate.
While domestic action is crucial, potential to reshape climate history is even greater at the international level. This potential first became evident in 2016, when Trudeau teamed up with the presidents of the United States and Mexico in an ambitious North American Climate, Clean Energy and Environment Partnership, under which the three countries agreed to reduce oil and gas methane emissions 40 to 45% by 2025.
Unfortunately, many other countries have been slow to establish oil and gas methane strategies of their own. And that's where Canada has a unique opportunity to exert transformational leadership.
Last year, the U.N. Environment Program — along with Environmental Defense Fund and others — launched the Global Methane Alliance, which brings together governments, financing institutions, nonprofits and industry to help countries increase their climate ambitions and develop concrete commitments to reduce methane emissions from oil and gas operations as part of their overall greenhouse gas reduction targets under the Paris climate agreement.
These commitments will be a critical element in the success — or failure — of the international climate talks scheduled for next fall.
Canada is the natural choice to lead the GMA, because it can speak with authority, experience and credibility no other country can match. Its leadership is rooted not in some vague "Canadian-ness," but in its actual expertise and ambition of a major energy producer working to transition to a cleaner future.
Becoming the leader that galvanizes international action to slash oil and gas methane pollution is a singular opportunity for Canada to play to its strengths. It will have greater, more lasting impact than a short-term stint on the Security Council being one voice in a cacophony of others.
The climate math to achieve a net-zero emission future does not add up without methane. Achieving the necessary global reductions in time requires special leadership to help other countries to aim higher. Seizing this critical moment by leading the charge for the Global Methane Alliance will put Canada and its commitment to environmental progress squarely in the world's spotlight for years to come.