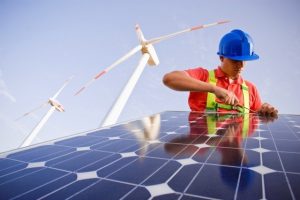 It's summertime in California, and one thing that means is lots of sunshine. Lucky for us, the Golden State is a national leader in turning that sunshine, and other renewable resources, into electricity to power homes and business across the state.
Currently, the state is working to produce 50 percent of its electricity from clean energy resources like solar and wind and is closing in on that goal. Next month, lawmakers will get the chance to advance that goal even further – to 100 percent by 2045.
SB 100, authored by Sen. Kevin de León, is the bill that, if passed, could solidify the new, bigger, bolder target. California would be the second state in the nation to pass this high of a target – only behind Hawaii. A handful of other states are considering aiming at 100 percent clean energy, including Massachusetts, New York, Oregon, Washington, and Pennsylvania.
California's leadership could help tip the scale. California has the opportunity to show the rest of these states and countries across the world that 100 percent clean energy is possible. With climate change already affecting us, we don't have much more time to waste. 
100 percent clean energy is achievable
We've said it before and we'll say it again, 100 percent clean energy is 100 percent possible. California's big utilities are on their way to meeting the current target of 50 percent by 2030 – they are already meeting, or will soon meet (depending on the utility) 2020 goals ahead of schedule. This is a huge feat deserving some serious props.
[Tweet "100% by 2045: California evaluates one of the nation's biggest clean energy goals"]
As of the first quarter of 2017, California leads the nation in installed solar capacity with almost 19,000 megawatts. What's more, last month California's grid operator hit a new record with solar alone providing more electricity than natural gas for the first time on a monthly basis. (It's important to note that this does not represent the sunshine-powered energy coming from people's rooftop panels.)
The clean energy revolution is here, and it's not stopping or going away any time soon. All of this impressive growth goes to show that California is capable of reaching and exceeding ambitious clean energy goals. And, with its plan to reach high levels of renewables, SB 100 would be no exception.
100 percent clean energy brings big benefits
As California has proven, a healthy environment and a healthy economy can go hand in hand. All of the progress the state has made in clean energy and climate policy has drawn huge investments and created good, local jobs:
These only represent some of the economic benefits of California's clean energy policies. It's clear from our track record that further investment in clean, renewable energy will only continue to strengthen our economy – now the 5th largest in the world.
How we can put all this clean energy to use
A crucial aspect of setting and achieving 100 percent clean energy in California is ensuring we can effectively and efficiently use all of that renewable power. The good news is we already have, or are working towards, tools to help us achieve this:
A regional electric grid for the West – California lawmakers are also considering a bill – AB 813 – which would create a renewable energy engine out of western states. By joining California's electric grid and energy market with its neighbors, states can more easily and quickly buy and sell clean energy. This has the potential reduce climate change causing pollution, lower electricity costs, and support renewables across the West.
Time-of-use electricity pricing – California's major utilities (PG&E, SCE, and SDG&E) are moving towards time-of-use pricing for all of their residential customers. This clean energy tool makes electricity cheaper when renewables are abundant and makes it more expensive when the electric grid is stressed and relying on polluting fossil fuels. By shifting some of our energy demand with time-of-use pricing, we can rely more on cleaner power.
Smart electric vehicle charging – The California Public Utilities Commission recently approved nearly $780 million in utility programs to electrify transportation. By charging these vehicles smartly, when clean energy is abundant, the state can use renewables efficiently and help ensure the electricity that powers vehicles comes from clean resources, locking in the climate and air quality benefits.
By using these tools and many more to ensure we can integrate all of our clean power, California can pass legislation leading the way to an electric grid with high levels of renewables, knowing we can get there.
A cleaner future for California
California should pursue this and other opportunities to move to higher levels of renewables and continue to prove that a clean economy is a strong economy and promote the health of its citizens and its environment. By passing SB 100, California would cement its clean energy leadership and help protect against the worst impacts of climate change, while protecting the health of families and communities, supporting our economy, and showing the way towards a clean, sustainable energy future.