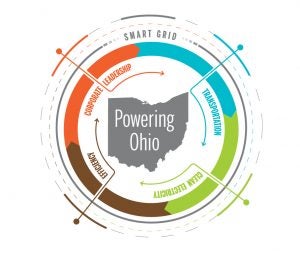 Today General Motors offers two models of electric vehicles (EVs). Within the next five years, the automotive giant will offer at least 20 EV options.
That's just one of many signs pointing to a more efficient, connected, and electrified transportation sector, which presents a prime opportunity for Ohio companies. In fact, a recent report from Synapse Energy finds that Ohio could bring in over $6 billion in investment and net more than 9,000 jobs by expanding the state's automotive leadership into an electrified, more efficient future.
Why Ohio?
With a thriving automotive supply chain, Ohio has a strong foundation for investment and growth by electrifying transportation. Specifically, the state is already heavily involved in the areas of the auto industry that will change the most with electrification: internal combustion engines, transmissions, and other drivetrain components.
And according to a 2017 report, Ohio has more than 27,000 jobs – and 80 facilities – building clean and fuel-efficient vehicle technology. Only the states of Michigan and Indiana have more.
Leading examples
With headquarters in Toledo and R&D facilities in Granville, Ohio, Owens Corning is a global company that develops and produces materials like insulation and fiberglass composites.
Transportation makes up a large portion of the company's composites business, which provides light-weight body components for vehicles. Owens Corning is already a leader in optimizing these materials for efficiency: Working with other firms, Granville researchers have helped make composites components 13 percent lighter than aluminum.
Another shining example is the Smart Columbus program, which brings sustainable transportation innovation to Ohio through initiatives like EV charging, autonomous vehicles, and phone apps for bus passengers. Supported by $50 million in grants from the U.S. Department of Transportation and Paul G. Allen Philanthropies, Smart Columbus has already leveraged the grant money tenfold: local businesses have invested an additional $500 million.
Companies like Owens Corning and initiatives like Smart Columbus create fertile ground for further automotive leadership in Ohio.
Jobs and investment at stake
As the transportation market shifts and grows to include electric in addition to combustion, Ohio can win big by embracing the opportunity and manufacturing electric motors and batteries, as well as lightweight components and more efficient engines for combustion vehicles.
Also according to the report, by maintaining its share of the combined drivetrain market, Ohio's auto sector could grow by more than $180 million in annual GDP by 2030. Moreover, the state could attract more than $6 billion in capital investment in electric drivetrain facilities, and create an additional 2,000 jobs and $135 million in annual wages.

On the other hand, letting the opportunity pass the state by would translate to a loss of nearly 7,000 jobs and over $700 million in annual GDP – meaning the net gains available to Ohio are over 9,000 jobs and $900 million in annual GDP.
General Motors appears to be betting on an electrified transportation future, and Ohio should do the same. By enticing innovators and encouraging existing companies, Ohio can drive the state forward into the transportation transformation.
---
This is the second in a series about the Powering Ohio vision report. You can read my first post here.