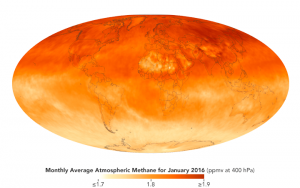 A white paper by the Gas Technology Institute's Center for Methane Research is drawing attention in industry circles for arguing that methane emissions from the oil and gas sector have a much smaller impact on the global climate than virtually every other generally accepted scientific estimate.
That would be huge news if it were true. But unfortunately, the conclusion is rendered completely moot by a compounding series of fundamental errors. In fact, had the authors done their math accurately, their results would have been very much in line with mainstream research which shows that human-caused methane emissions are responsible for a quarter of the worldwide warming we're experiencing today.
We can't say whether the erroneous calculations were intentional or not. It's worth noting, however, that EDF pointed out these mistakes to GTI staff when our scientists were asked to comment on a pre-publication draft. We will explain them again here, showing where the authors went wrong and what the numbers look like when they correctly reflect the underlying physics and chemistry.