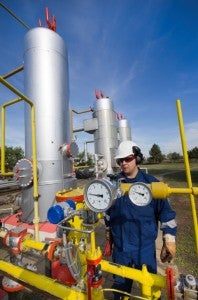 How do you detect a colorless, odorless gas? It's an important question especially when that invisible gas is as damaging as what comprises oil and gas pollution. We are talking about hazardous air pollutants (benzene), ozone precursors (volatile organic compounds), and greenhouse gases like methane – a gas that is more than 80 times more damaging than carbon dioxide to the climate in the short term.
Widely available tools like infrared cameras and hand-held hydrocarbon detectors are very effective at detecting leaks from oil and gas equipment, but new technologies and new science are always welcome.
That's what makes a new paper in the journal Environmental Science and Technology exciting. Led by experts from EPA's Office of Research and Development, and co-authored by EDF's David Lyon, this study uses a new technique to identify and measure methane emissions at oil and gas facilities.