By: Matt Golden, Senior Energy Finance Consultant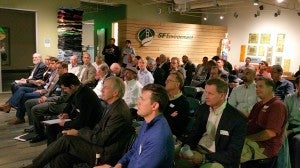 Last week, EDF's Investor Confidence Project (ICP) co-hosted an energy efficiency finance networking event in San Francisco, bringing together 70 local project developers, for the first-ever SF Inter-Connect. Held in collaboration with San Francisco Department of the Environment (SF Environment) and Pacific Gas & Electric (PG&E) on November 12 at the SF Environment offices, the event gave each investor, much like in 'speed dating', exactly five minutes to pitch the crowd on their products, describing how they worked and what kind of projects the investor was looking for.
The Investor Confidence Project is accelerating the development of a global energy efficiency market by standardizing how Investor Ready Energy Efficiency™ projects are developed and energy savings estimates are calculated. The ICP system offers a series of protocols that define industry best practices for energy efficiency project development and a credentialing system that provides third-party validation. This leads to increased confidence among building owners and investors in the reliability of projected savings.
Investors who participated included:
BluePath
Clean Fund
HUB International
Joule Assets
Metrus
New Resource Bank
Renewable Funding
SCI Energy
Perhaps most importantly, a good time was had by the lively crowd, which appeared to take full advantage of the casual networking format that was the main focus of the event. ICP's goal was to facilitate deal flow by connecting local contractors, installers, engineers, and project developers with investors such as Property-Assessed Clean Energy (PACE) finance firms, insurance providers, energy service companies, and municipal financing and incentive programs.
Based on feedback from investors who left with a hefty stack of business cards in hand, we believe the event was a success. With numerous participants asking when the next SF Inter-Connect will take place, the only question is when and where.[Tweet "ICP / SF DOE / PG&E Networking Event Fires Up Energy Efficiency Pros @PACE_Now @PGE4Me @CA_1st http://ow.ly/EG8Jq "]