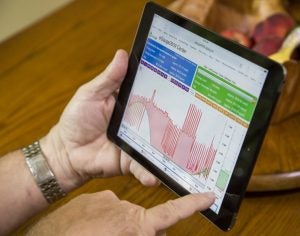 By Kim Sha and Ben Liu, clean energy interns
Illinois' largest utility, ComEd, is almost finished deploying advanced metering infrastructure to its customers. In fact, there are now more than 3.8 million installed smart meters in Illinois, feeding anonymized energy-use data – recorded in half-hourly kilowatt-hours – back from the grid.
How to make use of this unwieldy flood of data and enhance the efficiency of the grid? Our new paper, Modelling Marginal System Costs for the Commonwealth Edison Distribution Network, provides a framework for regulators, utilities and other researchers to begin to examine the insights provided by smart meter data, highlighting opportunities to save money for customers and utilities alike. Specifically, our study shows that under real-time electricity pricing, ComEd customers can save money not only by changing how much electricity they use, but by adjusting when they use it.