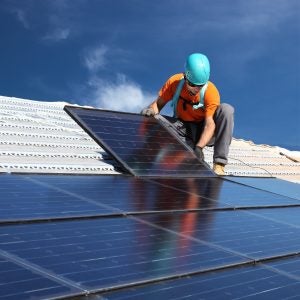 By Larissa Koehler and Jamie Fine
California has worked hard to build up a nation-leading clean energy portfolio. And the state has been hugely successful in adding renewable energy, especially solar, to the electric grid. However, having too much solar energy on the grid relative to energy demand can lead to grid operators turning off that clean power. This is costly for customers and makes it harder to meet our clean energy goals. One solution?  By putting price signals in place, such as time-of-use (or TOU) rates, we can encourage customers to use energy at times when solar or wind power is abundant.
TOU pricing does this by making electricity cheaper when the supply of electricity exceeds demand. Times of day when solar panels across the state are generating power will align with predictable low prices. If done right, TOU pricing can give Californians control over their energy bills, avoid pollution from fossil-fuel power plants, and maximize the production of renewable energy without additional cost.
The California Public Utilities Commission – the body that regulates utilities in the state – supports this strategy. In 2015 it decided to transition residential customers to a default TOU rate, with the explicit goal of integrating more renewable energy. Unfortunately, Southern California Edison (SCE) – a utility that serves electricity to over 3 million Californians – is proposing to delay putting some or all of their customers on these rates. This setback could have negative economic and environmental impacts. Read More »