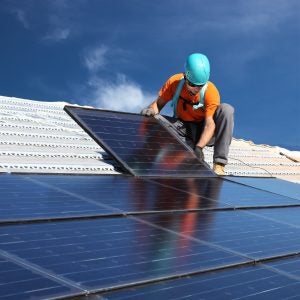 By Larissa Koehler and Jamie Fine
California has worked hard to build up a nation-leading clean energy portfolio. And the state has been hugely successful in adding renewable energy, especially solar, to the electric grid. However, having too much solar energy on the grid relative to energy demand can lead to grid operators turning off that clean power. This is costly for customers and makes it harder to meet our clean energy goals. One solution?  By putting price signals in place, such as time-of-use (or TOU) rates, we can encourage customers to use energy at times when solar or wind power is abundant.
TOU pricing does this by making electricity cheaper when the supply of electricity exceeds demand. Times of day when solar panels across the state are generating power will align with predictable low prices. If done right, TOU pricing can give Californians control over their energy bills, avoid pollution from fossil-fuel power plants, and maximize the production of renewable energy without additional cost.
The California Public Utilities Commission – the body that regulates utilities in the state – supports this strategy. In 2015 it decided to transition residential customers to a default TOU rate, with the explicit goal of integrating more renewable energy. Unfortunately, Southern California Edison (SCE) – a utility that serves electricity to over 3 million Californians – is proposing to delay putting some or all of their customers on these rates. This setback could have negative economic and environmental impacts.
Southern California Edison dragging its feet
SCE claims they need more time to update their billing system to handle the switch to TOU rates. For this reason, they propose to transition approximately half of their customers in 2018, with the rest to follow in 2020. Alternatively, they propose transitioning all of their customers in 2020.
[Tweet "Southern California Edison attempts to delay renewable-friendly electricity rates"]
Environmental Defense Fund recently protested this delay for four reasons:
The delays will result in undesirable economic and environmental impacts – namely a mismatch between low energy prices and times when renewable energy is abundant. Without TOU rates, most Californians will continue to use energy at times when it is provided by fossil fuels or when the grid is stressed, instead of using the opportunity to maximize the use of the renewables we already have. This can lead to curtailment – switching-off our clean resources – which puts unnecessary costs on customers.
Waiting until 2020 to transition some or all of SCE's customers is against the spirit of the commission's 2015 decision, which we interpret to establish a transition of all customers in 2019.
The commission should not excuse SCE's poor planning. When California started deploying advanced metering, or smart meters, over a decade ago, regulators and utilities explicitly contemplated an eventual transition to TOU rates. What's more, it's been over two years since the clear direction to transition to TOU rates came from the commission.
SCE's proposal sets a bad precedent. If the commission permits SCE to go down this path, it would empower the other investor-owned utilities – Pacific Gas & Electric and San Diego Gas & Electric – to seek the same sort of delay. This would throw a critical piece of meeting California's clean energy targets into disarray.
Meaningful price signals
Additionally, the structure of SCE's TOU rate itself does not present a strong enough price signal for customers to adapt the way they use energy. It may even prompt people to avoid using power at night, when wind is available. That's why we've been advocating that the commission and the utilities test a wider variety of rates and more meaningful price differences, in order to provide greater incentives for customers who are able to shift some of their energy use.
If done right, TOU pricing can give Californians control over their energy bills.
SCE gets bill protections right
There is one aspect of SCE's plan EDF supports: bill protections for customers. We are aware – and concerned – that certain customers, including low-income customers and customers in disadvantaged communities, may find it harder to adapt their energy usage to this new pricing.  As such, we fully support bill protections for vulnerable customers.
However, SCE also needs to actively think of ways to help those customers once it removes bill protections. For example, SCE should pursue the following:
Allow customers to select their own best rate from a suite of options. This is something we're calling, "personalized default" and it can help people start out with a rate that aligns with their preferences.
Present personalized solutions. Utilities are equipped to do this using data they already have.
Allow third party solutions providers access to anonymized data. Armed with this information, energy innovators – like demand response companies – can offer appropriate customer solutions.
SCE has a golden opportunity to show how a sunny California can translate to better economics, a more reliable grid, and a cleaner environment.  EDF will be one persistent voice ensuring SCE takes full advantage of this opportunity.