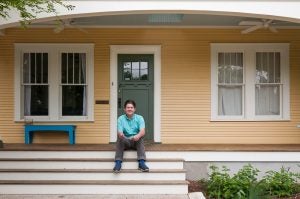 When a kid knocks at your door, you might expect a Girl Scout selling cookies or a Boy Scout selling popcorn. But recently, it was my 13 year-old neighbor, Pete Bates, asking me to sign a letter to fight methane pollution. I thought this was pretty neat, because while my day-to-day job is focused on reducing this pollution, it's a pretty niche topic. That's why I was so pleased to see Pete was interested in this topic and thought it was something worth getting engaged about.
These days, with the Trump administration's constant attacks on our climate and clean air, it can be easy to be pessimistic. Hearing about Pete's effort to make a difference gives me hope. I'm sure Pete and his generation will make the future bright, because they've already started.
Pete is in the 8th grade at Fulmore Middle School in Austin. As part of his coursework he is doing a Capstone project, where he will study a social issue important to him and connect with the community on it. For the open-ended part of the project, he is collecting comments protesting Secretary Zinke's proposal to weaken the Bureau of Land Management's (BLM) methane waste rule.
From the get-go, Pete wanted to do a project on global warming, and he even reached out to Al Gore to see if he would be his mentor. But because Mr. Gore never responded, I have that honor.
I recently sat down with Pete to find out more about why he chose this project, what insights he has on how to engage other young people, and some wise words we should all listen to. Here are some excerpts from our conversation, edited for clarity.
Drew: Why did you choose this topic?
Pete: I want to help where I can when it comes to global warming, and learn more about it.
As I did my research, I read an article on the BLM rule and thought gathering comments worked wonderfully for the creative, open-ended part of my project. I also chose to address the BLM rule because I felt I could have a voice in this.
After all, methane is one of the main causes of the greenhouse gas effect, and one of the easiest to fix.
I think oil and gas companies are acting for their own gain, rather than helping the world we all live in. This rule is an easy way for companies to protect the environment and even save money, but Trump is telling them they don't have to do it.
[Tweet "Fighting for the planet, one methane comment at a time"]
Drew: What would you say to your fellow students about getting involved in climate issues?
Pete: Remember that when it comes to the environment, the less we do now, the more we'll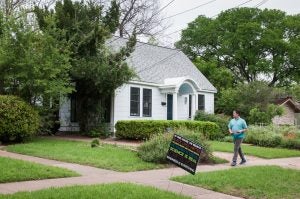 have to deal with later. And on the flip side, the more we do now, the less we'll have to deal with in the future.
If you want to get more kids involved, you would have to inform them. I think kids at my school would be happy to help and do what they can – but they need to know what's going on and what they can do to help.
Drew: Like many across the country, I've been moved by the activism of the Parkland teens and other young people. Do you think your generation is ready to lead on climate?
Pete: This is an issue that will define my generation. The rise of social media is helping people my age be more active and informed on issues, and rapid technology advances will allow us to tackle the climate challenge. Just look at renewable energy in Texas – I know when I drive across Texas I see wind turbines everywhere!
If we decide to put our minds to it and say "we need to do something!" our generation can do better.
Drew: How is your school helping you lead on this issue, and what can teachers do to educate and inspire students to do more on climate?
Pete: This capstone project I'm working on is a good example. It's independent research for students to learn more about topics they're passionate about. But teachers also need to teach on subjects like climate change, which isn't really on standardized tests.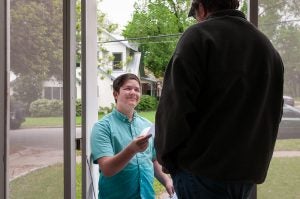 Pete's teacher, Cindy St. John, also chimed in with a nice note on his project:
Ms. St. John: Watching Pete work on this project has been inspiring, and I'm eager to see the final results of his work, but it's also exciting to know that this is more than just a school project for him; it's something I imagine him working on long after he leaves my class. Pete's project, and the work I have seen from many of my students, makes me very hopeful for our future.
Lastly, I asked Pete what he'd say to Secretary Zinke, and what gives him hope:
Pete: I would ask what he thinks of climate change and how rolling back the BLM rule is part of a solution to it.
It gives me hope that there are people and organizations working their hardest to make a difference.
You can submit your own comment on BLM's methane waste prevention rule here!