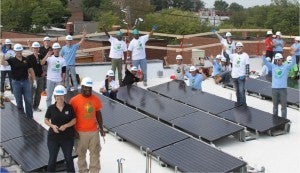 Being a democrat in Texas – a historically red state – can sometimes result in tense family gatherings around the holidays.
It's why many of us agree to simply "not talk politics." But this approach is exactly what's gotten us where we are today: a divided nation in which neither side understands the other. If we want to heal this divide, we have to start talking about our conflicting points of view – even if it's uncomfortable.
One way to do this in a respectful, level-headed way (besides having this conversation before the second or third glass of wine) is to bring some facts to family gatherings. Allow the facts – instead of emotional arguments – to speak for themselves.
We still don't know exactly what a Trump administration could mean for clean energy and the solar or wind industries. But the president-elect has promised to roll back the Clean Power Plan – the nation's first-ever limits on carbon pollution – and "bring back coal," both of which could slow our transition to a clean energy economy.
This isn't just unfortunate for the future health of our kids and grandkids; it's flat out not what most people want. Over 80 percent of Americans favor expanding renewable sources like wind and solar to provide electricity. Here are a few reasons why that you can bring to family gatherings this holiday season. If you're going to have a ten-gallon mouth, you may as well fill it with facts.