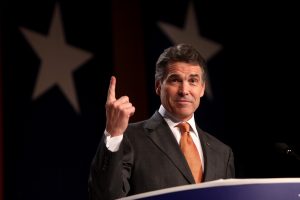 Among Rick Perry's first acts as Secretary of Energy was calling for a 60-day "study" of whether any policies or regulations have led to the premature retirement of coal or nuclear plants. I – and many others in the clean energy industry – are concerned this so-called study will amount to little more than a pro-coal fluff piece.
To people familiar with energy policy and the coal industry's rhetoric, Perry's request is a transparent promotion of coal and a backdoor attack on clean energy resources, like solar, wind, and energy efficiency. Besides, 60 days is barely enough time to fill job vacancies in a new administration, much less conduct a thorough analysis of America's complex energy policies.
But until the report is released, we can only look at what Perry and other Trump appointees have said and done about energy, generally, and coal, specifically, to predict what arguments Perry's office will make.
Over the next few weeks, EDF will examine several of the administration's pro-coal arguments and explain why:
[Tweet "What we know so far about Rick Perry's power grid "study""]
Perry's coal propaganda has nothing to do with reliability and everything to do with giving the pollution industry what it wants. The "grid reliability" angle is a ruse, and one Perry used a decade ago when he tried to fast track new coal plants in Texas. This issue has been studied relentlessly by grid operators and government agencies around the country, and the grid is handling coal's decline just fine. The Trump administration is using the reliability argument as cover to distract the American people from their close ties with the coal industry. Just look at Perry's staff at DOE – it's a who's who of the fossil fuel industry lobby. His Chief of Staff, who will manage the study, worked for the Edison Electric Institute – where he led its anti-solar campaign.
Perry's (and Trump's and Pruitt's) flip-flop on states' rights is hypocritical. EPA Administrator Scott Pruitt recently took time off from decimating our clean air and water protections to second Perry's argument that some state policies that encourage fuels other than coal could be a national security risk and should be reversed. I must admit, suggesting that coal makes America safer is a clever tactic. But it's not true, and I suspect this tack is little more than a way for Perry and Pruitt to counter all their vile attacks against the federal government when they were governor of Texas and attorney general of Oklahoma. Apparently, states' rights are so 2016.
Coal is terrible for the economy, human health, and the environment. Propping up the ailing coal industry will hurt the economy and American jobs, serving as another broken promise from Trump. Market trends undeniably show that cleaner, smarter energy – like solar and wind – is creating more jobs than fossil fuel electricity. Furthermore, we know doubling down on dirty coal means more asthma attacks, more health problems for elderly Americans, and a more polluted future.
The Trump administration may look chaotic, but its actions suggest it is meticulously and unapologetically laying the groundwork for four years of pro-coal policy. This so-called study is just another step of the plan. See also Trump's latest 2018 budget proposal – leaked last week – which aims to cut funding for DOE's renewable and energy efficiency program by 70 percent.
So stay tuned. It's going to be an interesting few weeks.
Photo credit: Gage Skidmore
This post originally appeared on our EDF Voices blog.