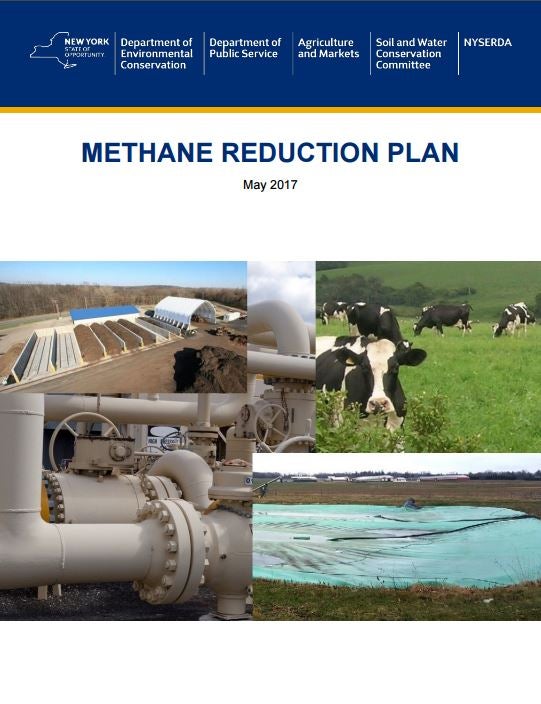 New York is now the latest in a growing number of states cracking down on methane – the powerful greenhouse gas responsible for about a quarter of global warming.
The effort comes on the heels of a successful senate vote to uphold methane limits for oil and gas companies operating on our nation's public and tribal lands, and sends yet another strong message to the oil and gas industry that Americans want and expect commonsense standards that  protect our health and natural resources.
Governor Cuomo's new plan takes a comprehensive approach to tackling methane from the state's biggest emission sources: landfills, agriculture, and the oil and gas industry. Collectively, the twenty-five reduction strategies outlined will allow New York to significantly curb methane pollution and allow the state to deliver on its 2030 climate target.
One of the biggest opportunities for methane reductions is in the oil and gas sector, where companies can eliminate nearly half of current emissions at minimal cost.
This is a strong move by Governor Cuomo at the exact right time.
The Trump administration has initiated a series of efforts in recent months to dismantle our nation's clean air safeguards, including those that address oil and gas methane emissions.
Last month, the Environmental Protection Agency issued a stay on protections that would have reduced methane from new oil and gas facilities. And before that the agency announced it would no longer collect data about emissions from existing facilities.
But Trump's home state is signaling a refusal to be deterred.
Cuomo's plan will reinstate EPA standards for New York's oil and gas facilities and calls for additional measures to reduce systematic methane leaks from pipelines, storage facilities and old, abandoned wells.
As one of the nation's top five consumers of gas, New York has a special responsibility to ensure it is transported and distributed responsibly. By implementing measures to reducing emissions from natural gas gathering lines, transmission facilities and gas utility pipelines, New York is stepping up to the task.
Reducing methane from the oil and gas sector – whether it's the well head or city pipelines – is one of the most cost-effective ways to take on one of the worst climate offenders and shore up our nation's energy security.  Standards that require oil and gas companies to take methane out of the atmosphere and deliver more energy to our communities are the exact kind of protections that the majority of American's support.  Continued state leadership – like this latest effort in New York – is critical to assuring Americans across the country that those safeguards will be in place.