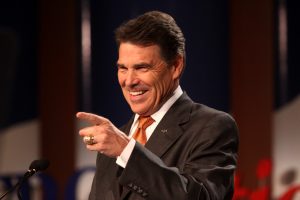 By now you may have heard that Rick Perry, former Governor of Texas, is President-elect Trump's pick for Energy secretary. If appointed, he will be succeeding Samuel Bodman, Doctor of Science in chemical engineering from MIT; Steven Chu, PhD in physics from the University of California, Berkeley; and Ernest Moniz, PhD in theoretical physics from Stanford University.
Since the majority of the budget of the Department of Energy (DOE) is spent on nuclear waste clean-up and very technical research projects, the fact that Gov. Perry doesn't measure up to his predecessors in his scientific credentials is disappointing. All the more so that his track record is one of unquestioning support of highly polluting interests in his state.
I have written about Perry plenty of times, so it should come as no surprise that I am less than thrilled with the idea of him heading the same department he famously declared he would eliminate.
Put simply: The appointment of Rick Perry is "open season" on the environment, and all who care about the health of their families should be concerned. Time and again, he has put polluters over people for political gain, and leveraged backroom deals with special interests — the rest of the economy and the air be damned. My only hope is that he takes to heart the jobs and economic growth resulting from Texas wind power, and uses it to steer the DOE toward fostering a thriving clean energy economy.
Unfortunately, we can't count on the Environmental Protection Agency to be a check on what Perry can be expected to do, given the President-elect's nominee Scott Pruitt has litigated against regulations on mercury, soot, and smog – actions that would lead to more harmful pollutants in the air and health conditions for American families. These are not the priorities that the majority of Americans support, and the new Administration does not have a mandate to undo our nation's bedrock environmental and health protections.
[Tweet "Could Rick Perry Forego his Special-Interest Past for a Clean Energy Future?"]
Suspicious behavior
Back in 2005, Dallas-based TXU Corporation wanted to build 11 new coal-fired power plants in Texas. To speed up the delivery of coal pollution into our air, then-Gov. Perry signed an executive order fast-tracking the permits, reducing a process that would normally require between one and four years to a mere six months.
There were the secret meetings held with TXU executives right before Perry signed the deal. Plus there were the hundreds of thousands of dollars rolling in to Perry's campaign over a decade. In fact, The New York Times reported,
In the months that followed [the executive order], current and retired TXU executives, as well as the company's political action committee, sent Mr. Perry more than $100,000 in donations, including one check dated the same day as Mr. Perry's order."
Former Gov. Perry's plan would have been catastrophic for the climate. Fortunately, numerous lawsuits arose to block the coal plants, and only three of the 11 were built. Moreover, Perry's executive order was deemed illegal by a Travis County judge.
Texas success
Perry should know firsthand the economic value of clean energy. His home state of Texas is the nation's leading producer of wind power, largely thanks to the groundbreaking Competitive Renewable Energy Zones (CREZ) system, which Perry himself signed into law in 2006. A major transmission line project, CREZ was an ahead-of-its-time tool to transport energy from windy West Texas to populous cities throughout the state.
Since then, Texas' power mix has been getting cleaner. In fact, wind is expected to provide nearly 15 percent of Texas energy in 2016, an impressive rise from 11.7 percent last year and merely 1 percent in 2005.
Former Gov. Perry's record on the environment tells me this appointment is a disaster for our air, water, and health.
What does Texas' stellar clean energy growth mean? In a word: jobs. In fact, Perry has bragged about Texas' success, even issuing a report in 2014 that concluded the renewable energy and supporting industries had added over 100,000 jobs to the state's economy. And Texas' clean energy economy has seen substantial growth and development since the report's release. For example, the wind energy industry alone now employs 24,000 people in the Lone Star State.
Former Gov. Perry's record on the environment tells me this appointment is a disaster for our air, water, and health. But I would love nothing more than for him to prove me wrong. Texas is a fine example of how policy can lay the foundation for clean energy growth that creates well-paying jobs, while improving the health of both people and the environment. If Rick Perry can create a cleaner, more energy-independent America as the head of our country's Department of Energy, I will happily admit I was wrong.
Photo credit: Flickr/Gage Skidmore
This post originally appeared on our Texas Clean Air Matters blog.