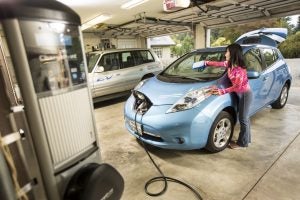 Americans are switching to cleaner cars and electricity. In addition to being smart purchases, these clean energy choices could be a political statement. Consumers are choosing to use their hard-earned dollars to show what they want: clean energy, a clean economy, and government policies that reflect their values.
Last month, electric-car company Tesla was valued higher than General Motors, making it the most valuable U.S. carmaker based on market capitalization. Despite low gas prices, U.S. sales of plug-in electric vehicles increased by 70 percent in January from the same month in 2016. The Chevrolet Volt alone saw an 84 percent increase during the same time.
The increase in electric car sales isn't surprising in light of The Consumer as Climate Activist, a scientific article published by researchers from Yale University, George Mason University, and the University of Texas. They found that Americans are more likely to engage in consumer activism than political activism to combat climate change. And consumer activism for clean energy is on the rise.
According to Dallas-based Clearview Energy, which provides customers with electricity generated by water, solar, wind, and geothermal power, their web sales have increased by 500 percent since the presidential election in November.
[Tweet "Purchasing power over politics: American consumers buy more clean energy and electric cars"]
Clearview CEO Frank McGovern says, "Every time Trump threatens to dismantle the EPA, our green energy plan sales skyrocket."
These trends suggest that Americans could be fighting back with their purchasing power against the Trump administration's assault on clean energy, which has been far-reaching since his inauguration in January:
As consumers, we can use our purchases to change the way power is made and change the powers that be. So let's be smart, let's be strategic, and let's fight the good fight. You have choices as a consumer – whether you're buying your next car, choosing your electricity provider, installing solar on your home roof, or replacing a home appliance. Make a statement and choose to buy clean.
Photo credit: John Rae