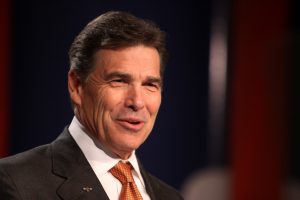 Those of us who lived through Rick Perry's governorship in Texas were concerned he'd take his "pollution-first" mentality to Washington. But the Trump administration's assault on clean energy started before Perry cleared the first hurdle for becoming Secretary of Energy today, signaling he'll likely be confirmed by the full Senate.
In two short weeks, President Trump laid out the dismal, dirty, and dangerous energy platform he'll expect Rick Perry to execute. It's up to us to protect and defend the jobs clean energy creates, along with its benefits for business, consumers, health, and our natural resources.
Energy efficiency
President Trump's regulatory freeze halted four rules designed to reduce energy waste and, consequently, energy bills and greenhouse gas pollution. The Washington Post reported, "The freeze would appear to have the effect of sweeping up four very nearly finished Energy Department energy efficiency standards, affecting an array of products, including portable air conditioners and commercial boilers." Heating and cooling use the most energy in buildings. This rule on commercial air-conditioners was published last year. The amount of C02 reduction and the fact that the Department of Energy negotiated the rule with industry make it a landmark example of how efficiency rules don't hurt manufacturers while saving utility customers billions of dollars. Closing off this avenue of cooperation between the government and industry stakeholders takes away drive for innovation and allows others (China) to take the lead.
Free energy markets
On Jan. 27, the president named Cheryl LaFleur acting chair of the Federal Energy Regulatory Commission, bumping former chairman Norman Bay to a regular commissioner. Under Bay's watch, FERC won the monumental Order 745 demand response case before the U.S. Supreme Court, and it blocked subsidies to aging coal and nuclear facilities in Ohio. LaFleur's appointment clearly marks a new philosophy, and Bay resigned hours after the announcement.
Renewables
Trump's team outlined a proposal for eliminating the Office of Electricity and the Office of Energy Efficiency and Renewable Energy. In addition, The Hill reported the proposal would "roll back funding for nuclear physics and advanced scientific computing research to 2008 levels…" – back when the GDP was 20 percent smaller than it is today.
[Tweet "As new energy secretary, Rick Perry will inherit Trump's assault on American clean energy"]
Energy information
The new administration gutted the Department of Energy's website, essentially erasing most of the home page and deleting blog entries and news items. Numbers on the Energy Department's web page show, among other things, that 2.2 million Americans are employed, in whole or in part, in energy efficiency jobs. This data loss is part of a pattern of hiding important environmental data on which many sectors of the economy depend.
Clean air funding and rules
A leaked administration draft document shows plans to undercut clean energy – presumably through executive orders, congressional bills, budget cuts – by barring EPA from permit decisions and ending Clean Air Act greenhouse gas regulations.
The Huffington Post's Nick Visser put it perfectly: "We know what the country looks like without the EPA: Filthy." Some of us still recall the dirty air, burning rivers, and indiscriminate use of dangerous pesticides that spurred the creation of the Environmental Protection Agency in the first place. We also recall that it was a Republican president who planned and built the agency. When it comes to clean energy and clean air, those of us with long memories know that federal rules are just as important today.
When it comes to clean energy and clean air, those of us with long memories know that federal rules are just as important today.
The EPA is a frequent and easy political target in election years. We're used to venomous and ignorant soundbites about the agency. But President Trump's attack on environmental and energy progress goes far beyond the usual rhetoric. In his first two weeks in office, he's taken a blowtorch to the very institutions that have spurred energy innovation, jobs, and the protection of our children's health.
Recent clean energy victories in California, Illinois, Maryland, Michigan, New York, and Ohio, make clear that states are taking the lead as the federal government makes plans to dismantle progress. At EDF, we're also doing our part to help make sure that doesn't happen, such as through our new clean energy and sustainability jobs report, which shows the number of clean jobs is growing impressively in the U.S.
But individuals can help, too. We hope you'll join us through your own grassroots activism, like call-ins around offensive government actions, and by staying informed. Together, we can protect and defend clean energy progress.
Photo source: Flickr/Gage Skidmore