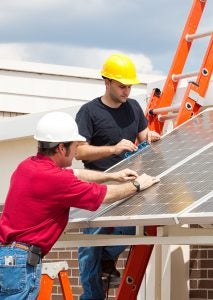 Coal mining is tough and dangerous work. In the movie Coal Miner's Daughter, country star Loretta Lynn's husband Doolittle sums it up this way, "There ain't nothin' in Kentucky for me except a chest full of coal dust and being an old man before I'm forty."
Nearly 40 years later, coal mining is still dangerous, and we know a lot more about its disastrous health effects. On top of these risks, workers have seen decades of job cuts as coal companies automate the mining process and coal-fired electricity is being squeezed by cleaner and cheaper energy sources like natural gas, wind and solar.
Rather than seek genuine solutions that would help current and former coal workers, President Trump campaigned on reviving coal jobs and seems hell-bent on propping up the uneconomic coal industry, no matter the cost. We – and President Trump – owe coal workers more than empty political promises. We owe them an opportunity to succeed in this shifting economy.
America's declining coal workforce
Coal jobs have been declining for decades. Of the nearly 160 million people in the American labor force, around 51,000 people – roughly .003 percent – work in the coal industry. To put that number into perspective, Arby's restaurants employ more than 30,000 more employees than the coal industry.
By comparison, solar and wind employ nine times more workers than coal. In fact, clean-energy workers, like solar-panel installers and wind-turbine technicians, are the only occupations expected to double by 2026, according to the U.S. Bureau of Labor Statistics.
[Tweet "Coal workers deserve opportunity & support, not false promises about reviving their industry"]
The low number of American coal workers is partially due to automation. Autonomous haul trucks and loaders can already produce 15-20 percent more coal output per dollar invested and reduces labor costs since fewer workers are required. No president can reverse this trend.
The industry is also declining due to old-fashioned market forces. Cheap natural gas, flattened energy demand, and falling renewable energy costs have all put pressure on coal. According to Michael Webber of the University of Texas Energy Institute, "Coal's struggles are real and hard to mitigate. It's difficult to conceive how these market trends could be reversed, no matter how Trump tries to protect coal from competition."
Of course, explaining this trend is little comfort to coal workers, many of whom consider coal mining a family tradition and never considered working in another field. Now, their jobs are disappearing. In coal-heavy states like Kentucky and West Virginia, entire towns are getting pinched.
Promising programs
In some areas, like Kentucky and Wyoming, entrepreneurs and organizations are stepping up to help ease the pain. Energy industry workers, including miners, have valuable technical skills. These programs – among others – empower workers to explore new, safer careers:
Coal workers have been key to American prosperity, and our country should repay the debt.
Kentucky start up BitSource is retraining coal miners to become code developers. Rusty Justice, one of the owners of BitSource, stated, "Really coal mines today are very sophisticated, and they use a lot of technology, a lot of robotics." Justice realized an opportunity to transfer those skills to computers.
Berkeley Energy Group, a Kentucky coal mining company, has partnered with EDF Renewable Energy (no relation to Environmental Defense Fund) to build a solar farm on an old coal mine. Displaced coal miners will work at the farm.
Wind turbine manufacturer Goldwind Americas recently announced a free training program for out-of-work coal miners to become wind farm technicians in Wyoming.
The transition to new industries is never easy, and coal miners shouldn't be left to fend for themselves. Coal workers have been key to American prosperity, and our country should repay the debt. We owe them opportunity, not empty promises no politician can keep. Investing in retraining coal communities will create new opportunities for miners and cleaner air for all Americans. It's already happening in some coal communities. We say "more, please."
Photo by lisfx, via iStock.