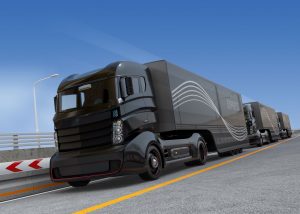 Momentum is building for federal support of truck electrification, and today's launch of the National Zero-Emission Truck Coalition is a great example of how federal incentives are urgently needed to clean up our air, create tens of thousands of jobs and solidify American competitiveness in the global zero-emission truck market.
Organized by CALSTART, the ZET coalition is a group of America's biggest truck equipment manufacturers, suppliers and key stakeholders, such as Cummins, Daimler, PACCAR, Eaton, Tesla, Rivian along with Environmental Defense Fund. This knowledgeable set of stakeholders is advocating for federal charging and refueling infrastructure and increased federal investments in advanced clean transportation technologies.
The group is also advocating for a national point-of-sale incentive program to help drive the near-term production of zero-emission trucks and buses in the United States — a policy that for the last decade has stood out for its effective support of clean vehicles at the state level. Also called a "voucher incentive program," this incentive structure streamlines access to grants that directly support the purchases of clean trucks and buses, including battery electric and fuel cell vehicles.