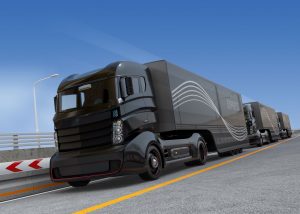 Momentum is building for federal support of truck electrification, and today's launch of the National Zero-Emission Truck Coalition is a great example of how federal incentives are urgently needed to clean up our air, create tens of thousands of jobs and solidify American competitiveness in the global zero-emission truck market.
Organized by CALSTART, the ZET coalition is a group of America's biggest truck equipment manufacturers, suppliers and key stakeholders, such as Cummins, Daimler, PACCAR, Eaton, Tesla, Rivian along with Environmental Defense Fund. This knowledgeable set of stakeholders is advocating for federal charging and refueling infrastructure and increased federal investments in advanced clean transportation technologies.
The group is also advocating for a national point-of-sale incentive program to help drive the near-term production of zero-emission trucks and buses in the United States — a policy that for the last decade has stood out for its effective support of clean vehicles at the state level. Also called a "voucher incentive program," this incentive structure streamlines access to grants that directly support the purchases of clean trucks and buses, including battery electric and fuel cell vehicles.
Proof of success
Voucher incentive programs have been highly effective in states across the country because their design comes directly from fleet owners and breaks through the chicken-and-egg dilemma: Manufacturers will only ramp up production with sufficient demand, but that demand will only emerge with lower prices resulting from scaled production.
Some of the biggest names in trucking are calling for federal support of electric trucks and buses
Click To Tweet
Nearly a decade ago, EDF worked with CALSTART, fleet owners and other stakeholders to develop the voucher program model, which follows a simple five-step process:
Manufacturer or authorized dealer applies to list vehicles for voucher eligibility.
Vendor selling approved vehicle(s) applies to be approved voucher recipient.
Fleet purchases an eligible vehicle from an eligible vendor with voucher amount subtracted.
Vendor works with Voucher Processing Center to process voucher request.
Once vehicle is delivered and all documentation is submitted, vendor is reimbursed.
A CALSTART analysis of point-of-sale incentives across the U.S. has shown that voucher programs are among the most effective policies for incentivizing clean trucks and buses because of their ease of use and administration.
Here are a few examples of where these programs have resulted in more zero-emission trucks on the road:
California: Voucher incentive programs have delivered more than $589 million in incentives and added 4,400 ultra clean medium- and heavy-duty vehicles to California roads today. Additionally, the program has committed to support procurement of 3,400 zero-emission trucks and buses, more than 2,600 hybrid trucks and 3,200 low NOx engines with existing funding allocations.
New York: In 2013, New York State Energy Research and Development Authority launched the New York Truck Voucher Incentive Program, which is currently allocating $20 million for its diesel truck replacement program. Since 2014, more than 600 medium- and heavy-duty trucks, including 65 all-electric trucks and buses, have been purchased under this program.
Illinois: In Chicago, the city deployed $12 million of its funds from the Congestion Mitigation and Air Quality Improvement program to create the Drive Clean Chicago Program. It successfully got 300 trucks on the road and had an additional $3 million in requests when program funds ran out in 2017.
An opportunity to rebuild better
The ZET coalition is advocating for federal investments that could put the United States on a trajectory to replace tens of thousands of diesel-fueled trucks with zero-emission alternatives by 2025 — which we need now more than ever.
Pollution from diesel-fueled trucks and buses causes serious harm to human health — leading to more asthma, heart attacks and premature deaths — that disproportionately affects people of color and low-income communities. And we know certain underlying medical conditions, such as asthma or chronic respiratory diseases, may put people at higher risk for severe illness from COVID-19. By electrifying trucks and buses, we have a unique opportunity to substantially decrease tailpipe pollution, while beginning to address the racial disparities of air pollution exposure amid a global pandemic.
Creating strong incentives for clean transportation — like the a national voucher incentive program — will also help put the tens of thousands of American energy workers back to work who have lost their jobs due to the COVID-19 crisis.
As we move to repair our COVID-battered economy, we have a chance to make it better and more just than it was before. By prioritizing investments in the electrification of America's trucks and buses, we can begin to put Americans back to work while protecting our health and climate. A national voucher incentive program can accelerate the market for zero-emission solutions and make sure that all Americans are benefiting from the air pollution and job-creation benefits of investing in these clean vehicles.