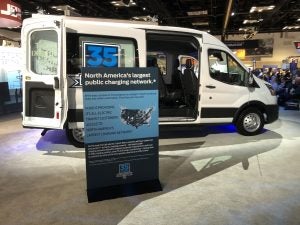 Each March, truck makers and fleets from all over the country gather in Indianapolis to talk about industry trends and share the newest vehicle offerings. At this year's Work Truck Show, which wraps today, the top discussion topic was the emergence of electric trucks, especially for local delivery.
But two product announcements in particular made headlines, and for good reason. They are evidence that what industry observers have long speculated is coming to fruition: local delivery is the next market segment that will go big for EVs.
As the curtain was raised on the show, Daimler and Proterra announced a partnership on an electric walk-in van — the mt50e, similar to the iconic FedEx truck. The vehicle is tailor made for local delivery with its ample cargo capacity (up to 23,000 pounds) and impressive range (125 miles per charge). The companies promised to deliver a production-ready version of the truck by the end of this year. Judging from the interest among show attendees and the line to drive the truck, Daimler and Proterra are likely to find a large market for the mt50e as it moves toward production.
Ford made its own impressive news by announcing an electric Ford Transit for the 2022 model year. This vehicle runs in a range of vocational and delivery fleets. It is well-suited for use as a neighborhood delivery vehicle. The Transit is already the top selling full-size van in the U.S. with over a third of the entire market. There is a lot of growth potential for the EV version just within Ford's existing sales base.
Ready for Delivery: Electric package trucks
Click To Tweet
Local delivery fleets are ideal for electrification given their predictable routes and significant dwell times at the depot — important factors when planning for recharging. And we've seen a number of high-profile corporate commitments in this space over the last couple of months: FedEx deploying 1,000 Chanje trucks, UPS ordering 10,000 trucks from Arrival, Amazon committing to order 100,000 Rivian EVs over a decade. Yet, we lacked a clear sense of when manufacturers will actually start to bring these vehicles to market.
It is now clear that every local delivery fleet in the U.S. will have competitive electric truck options within the next year or two. Thus, removing one of the major barriers standing in the way of EV adoption: product availability.
Other barriers remain, of course. Most notably is charging these fleets as they scale. Fleets are starting to develop a pathway forward for this too, as demonstrated in a recent announcement by FedEx to deploy the largest integrated charging infrastructure by a single commercial fleet to date. While much more work is needed to build the necessary charging systems to power large fleets quickly and with clean energy, the future direction of local delivery is now very clear: it's zero-emission.
With the explosive growth in e-commerce, electric vehicle options are arriving not a moment too soon. In the U.S. alone, the volume of delivery is expected to double by 2026 to over 100 million packages a day. Parcel carries and e-commerce shippers will now have electric vehicles available to deliver many of these packages. That's good for local air quality and the climate. But it also means that these companies need to start planning now to deploy EVs as they enter the market in larger numbers over the next year or two.