By: Emily Martin, 2011 Climate Corps Public Sector Fellow at the Township of Ocean, NJ; MEM candidate at the Nicholas School of the Environment, Duke University; LEED Green Associate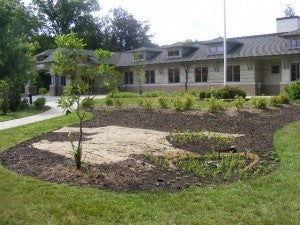 Immediately following Climate Corps Public Sector training in Durham, NC, I headed to the Jersey Shore for the first time, not quite sure what to expect. After all, my previous exposure was limited to media coverage, and any news of the state's sustainability efforts have been overshadowed by the antics of certain shore residents.
After arriving in Ocean Township, however, I gained a new perspective on New Jersey when I met the township's manager and members of the "Green Team." I was introduced to "Sustainable Jersey," a certification program for municipalities in New Jersey that want to go green, control costs and save money, and take steps to sustain their quality of life over the long term. So far, over 70 New Jersey municipalities are certified under this program. Ocean Township is currently working toward its certification.
One action that will help Ocean receive a Sustainable Jersey certification is the creation of a rain garden at the municipal library. Rain gardens allow 30% more water to absorb into the ground, which decreases storm water runoff and reduces pollution in streams, rivers, and lakes. They can even count as credit toward LEED certification for the library.
In Ocean Township, the rain garden has also been a great way to sprout community involvement. Last year, the town's Green Team, Environmental Commission, local Boy and Girl Scouts, and Kohl's employees planted the first stage of the garden. More events with the Boy Scouts are scheduled to continue expanding the garden.
The township's Environmental Commission has also started a Community Garden at a local apartment complex, as well as at the first annual Green Fest on Earth Day. Ocean Township is successfully leveraging these and other community-based activities to stress how small, conscious efforts in energy efficiency and conservation can make a big difference.
I aim to reinforce this attitude of individual and community-based environmental change during the rest of my time in Ocean Township. In addition to searching out large-scale efficiency upgrades in municipal buildings, I am seeking no cost or low cost opportunities for improvement. It can be as easy as switching out incandescent bulbs for CFLs, or putting on an old t-shirt and pair of shoes to volunteer at a community rain garden. What better way to reinvent the phrase "t-shirt time" on the Jersey Shore?
EDF Climate Corps Public Sector (CCPS) trains graduate students to identify energy efficiency savings in colleges, universities, local governments and houses of worship.  The program focuses on partnerships with minority serving institutions and diverse communities.  Apply as a CCPS fellow, read our blog posts and follow us on Twitter to get regular updates about this program.