By: Daniel Brookshire, 2011 Climate Corps Public Sector Fellow at the Eastern Band of Cherokee Indians in North Carolina; Master of City and Regional Planning candidate at UNC Chapel Hill, specializing in Land Use and Environmental Planning
("Hello" in Cherokee)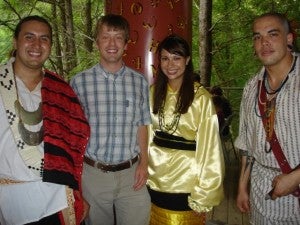 Erin, my EDF partner, and I are spending our summer fellowship at the Qualla Boundary of the Eastern Band of Cherokee Indians (EBCI). We really lucked out in getting to work in the beautiful Smoky Mountains of Western North Carolina.
EBCI demonstrates its impressive commitment to energy efficiency with its strategic energy plan for the tribe. They have conducted 40 energy assessments of tribally owned buildings and secured grant funding for efficiency upgrades. Also, most of the street lights have been converted to highly efficient LED bulbs, and our office is a certified LEED Gold building!
Our job as Fellows is to assist the already strong effort by the Tribal Government to become more energy efficient. Our primary tasks for the summer are:
Develop a tracking system based on the Energy Star Portfolio Manager
Help revise the tribe's strategic energy plan
Conduct energy assessments at the Snowbird Community of the EBCI
My favorite part of this experience has been conducting the energy assessments of the seven buildings and facilities at the Snowbird Community, located an hour from the main part of the Qualla Boundary. We are collaborating with Bob Gilbreath of Waste Reduction Partners, who has previously worked with the EBCI. Bob is a hilarious Alabamian and an engineering expert. With his help and tools, we have crawled around attics, scanned lights, and gone on a scavenger hunt to find all of the energy meters in Snowbird. I enjoy being out of the office and up close to the source of energy inefficiencies.
After a hard day's work is over, Erin and I have been taking full advantage of our culturally and environmentally rich surroundings. Here are some adventures we've gone on with our new Cherokee friends:
Hiking in the Great Smoky Mountains National Park
Attending a reception and viewing of "Unto These Hills," an outdoor drama about the history of the Cherokee
Eating traditional Cherokee beanbread with fatback
River tubing in the very frigid Deep Creek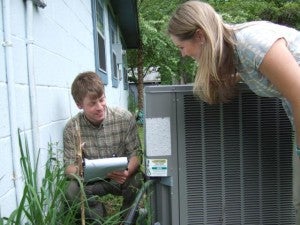 Overall, we are having a blast in Cherokee and it really makes our job easier working with a group of people deeply committed to energy efficiency!
EDF Climate Corps Public Sector (CCPS) trains graduate students to identify energy efficiency savings in colleges, universities, local governments and houses of worship.  The program focuses on partnerships with minority serving institutions and diverse communities.  Apply as a CCPS fellow, read our blog posts and follow us on Twitter to get regular updates about this program.