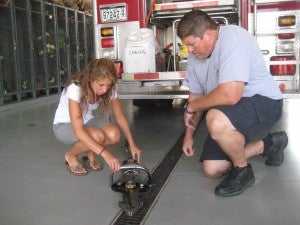 By: Anna Chavis, 2011 Climate Corps Public Sector Fellow at the City of Wilmington, NC, Department of Public Services; MEM/MBA candidate at the Nicholas School of the Environment/Fuqua School of Business, Duke University
How do you get firemen to reduce their energy consumption? Just do what the City of Wilmington, NC, did – make it into a competition. Back in 2006, the City of Wilmington's Department of Public Services pitted its 11 fire stations against one another in an energy savings competition. It was a first for Wilmington, known more for its beaches and night life than its environmental initiatives. The goal was for each fire station to develop a plan that reduced the most energy over a six-month period and to carry it out. The reward? A pizza party.
Lights were turned off, energy police went out on patrol, and competitive banter was heard among station staff. All this for a drop in the energy bill each station anxiously downloaded at the end of each month. As Vince Lombardi once said, "If winning isn't everything, why do they keep score?" Sheer bragging rights and the incentive of a pizza party created the perfect game, while the reduction of kilowatt hours provided the perfect scorecard. And a little friendly competition can go a long way: some fire stations in Wilmington reduced their energy use by 15%, with a total of 348,000 KWh—over $4,000—saved.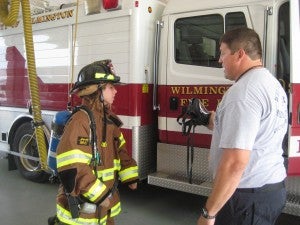 Competition is a fun and successful tool to improve energy efficiency. From office buildings to college campuses, the "Eco-Olympics" to "We Do It in the Dark," citizens everywhere are finding ways to help others integrate sustainable energy use into everyday life. For fire stations, behavioral changes range from opening windows instead of cranking the AC to closing bay doors in the winter. Although competitions like Wilmington's are short lived, they ingrain sustainable behavior, heighten environmental awareness, and underscore the importance of individual responsibility.
I am a Climate Corps Public Sector Fellow in Wilmington focused on fire station energy use. I'm looking forward to continuing the work that began a few years ago. After a few station visits, it is clear that the firemen understand the importance of energy efficiency. They eagerly share their ideas with me for ways Wilmington can further reduce its energy use.
EDF Climate Corps Public Sector (CCPS) trains graduate students to identify energy efficiency savings in colleges, universities, local governments and houses of worship.  The program focuses on partnerships with minority serving institutions and diverse communities.  Apply as a CCPS fellow, read our blog posts and follow us on Twitter to get regular updates about this program.