By: Jen Weiss, 2011 Climate Corps Public Sector Fellow at Shaw University; MEM candidate at the Nicholas School of the Environment at Duke University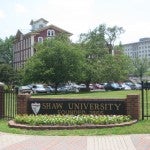 Climate Corps Public Sector (CCPS) helps universities, governments and houses of worship identify ways to improve energy efficiency and save money.
My mother always told me that when adversity strikes, look for the silver lining.
The staff and students at Shaw University (Shaw) in downtown Raleigh have learned this lesson the hard way. Six weeks ago, Shaw was hit by a tornado. Classes were cancelled and students were sent home as Shaw administrators surveyed the damage to the historical buildings that date back to 1865.
Thanks to the dedication of its students, staff and the Raleigh community, the university cleared the debris, assessed the damage and started over in a remarkably short time frame. Today, summer classes are in session and despite the boarded up windows, blue-tarped rooftops, and damaged trees, Shaw University is definitely back in business!
But, wait … the story can't end here – where is the silver lining?
Finding the Silver (Green) Lining
Eliza Davis, my EDF Partner, and I are determined to help Shaw find the silver lining, or in this case, the "green" lining. Over the next 10 weeks, we will help Shaw rebuild as a more sustainable university with these three lessons:
1) Become a part of the family
Everyone at Shaw has been extremely helpful and provided all the information we need to perform our initial energy audit. And to top it off, they've cooked us lunch (twice!) and provided us with our very first nicknames. For reasons that are unknown to us, our new Shaw family lovingly nicknamed us "Gin and Tonic." We chose to believe this is because we are a refreshing glass of change for the university.
2) Practice what you preach
To support our quest for going green, we are forgoing air conditioning despite the 98 degree days. Well, that's not entirely true. Truth be told, the AC unit that supports our part of the building was damaged by the tornado, but our 80 degree office is a constant reminder of why we are here. And, quite honestly, it's a heck of a lot better than being outside.
3) Leave no rock unturned
We've combed through stacks of electric and gas bills. We've toured the campus three times in the heat to locate utility meters and HVAC systems. We've witnessed the beast of a boiler that once supplied AC to the dorms and student center, and we've glimpsed the new chiller and ventilation system that will replace it thanks to a NC State Energy grant. We've counte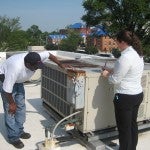 d endless amounts of T-12 lights, PCs and Exit Signs.
We've seen the good, the bad, and the ugly, and what have we found?
It looks like we've started to find the green lining!
Tune in next time as we take a closer look … until then, stay cool and think green!
EDF Climate Corps Public Sector (CCPS) trains graduate students to identify energy efficiency savings in colleges, universities, local governments and houses of worship.  The program focuses on partnerships with minority serving institutions and diverse communities.  Apply as a CCPS fellow, read our blog posts and follow us on Twitter to get regular updates about this program.