By: LaKausha T. Simpson, 2011 Climate Corps Public Sector Fellow at North Carolina Agricultural & Technical State University; M.S. PhD Candidate, Industrial & Systems Engineering at North Carolina A&T State University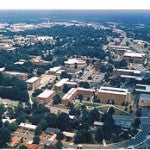 I was gung ho about my first week of energy audits at North Carolina Agricultural and Technical State University (NC A&T). I am assigned to audit its auxiliary department, which includes the dining hall, residence halls, athletic facilities, and campus bookstore.
NC A&T is ahead of the energy savings game and has begun T8 and T5 light installations, utility billing, and contract audits, and is starting major building upgrades this summer. All of these initiatives are great for energy conservation, but what is there left to do? What about my job?
My EDF partner, Jonathan Wilson, and I began our search for energy savings in the Williams Dining Hall. Our initial cost savings estimates were minimal – just dollars and cents. Last year's fellows saved thousands of dollars per project. We only have nine weeks left to find even more cost savings.
Then I remembered: Profit = Revenue – Expense. However, NC A&T is a public university, so the word 'profit' can be replaced by financing, while 'revenue' can be replaced by funding. My new equation is: Financing = Funding – Expense.
If I want to optimize this equation, I can either minimize expenses and/or maximize funding. Until now I hadn't considered solutions that could increase funding. There are federal and local programs, as well as utilities, including Duke Energy and Piedmont Gas, that provide or supplement funding for energy conservation initiatives.
Saving money should not be the only factor that drives the business of energy efficiency. It's also about reducing greenhouse gas pollution, clean air and water, and sustainability. Whether it is a natural or corporate ecosystem, both stand to profit.
EDF Climate Corps Public Sector (CCPS) trains graduate students to identify energy efficiency savings in colleges, universities, local governments and houses of worship.  The program focuses on partnerships with minority serving institutions and diverse communities.  Apply as a CCPS fellow, read our blog posts and follow us on Twitter to get regular updates about this program.