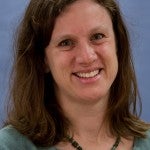 By Jen Weiss, 2011 EDF Climate Corps Fellow at Shaw University, MEM Candidate, Nicolas School of the Environment, Duke University, Durham, NC
A few weeks ago, I found myself peering over the edge of a forty-two foot platform willing myself to take the leap – to tackle the Mega Jump.  Okay, maybe peering is not the right word.  I was gripping the side of the platform, looking out over the horizon, and wondering how I had ever gotten convinced to do this given my severe fear of heights.  But, there I was.  I decided to stop thinking about it.  Better to trust that it was all going to work out fine than analyze every detail.  I closed my eyes, released my grip, and jumped …
The next moment, I was on the ground.  I checked for breaks or cuts – nothing.  The only thing I felt was exhilaration – a feeling of success and accomplishment.  I had done it. And I had survived.
I get a similar sense of nervous anticipation with energy efficiency.  What's that?  You don't follow my leap?  Consider this …
I have just wrapped up my EDF Climate Corps Fellowship at Shaw University in downtown Raleigh.  My EDF partner, Eliza, and I have made recommendations that could save the university over $125,000 a year in annual energy savings.  And, some of these recommendations come at absolutely no cost:
Power management (sleep mode) for PCs and copiers
Summer setback temperatures for some of the dorms
Upgrading exit signs to LED versions
Upgrading the residence hall's laundry services to more energy efficient washing machines
Consolidation of office equipment and mini-fridges
A few other recommendations have a small price of admission, but with Progress Energy rebates and very short payback periods, they can be done quickly and savings can be seen within six months:
Install vending misers on all vending machines
Upgrade lighting to more efficient T-8s
Install programmable thermostats (my personal favorite – the savings here are huge!)
Shaw is now standing on the edge of the platform waiting to jump.  The eager faces in the audience as Eliza and I presented these recommendations tell me that they have the desire and commitment to make the changes and lead Shaw into sustainability.  And they certainly have the experience and knowledge to get it done.  The next step is up to them. 
At this point, Shaw needs to take a leap of faith. They need to jump off the platform and feel the exhilaration that comes from saving the planet (and saving money).  There is absolutely nothing to lose and a tremendous amount to gain. My advice? 
Just Do It!
EDF Climate Corps Public Sector (CCPS) trains graduate students to identify energy efficiency savings in colleges, universities, local governments and houses of worship. The program focuses on partnerships with minority serving institutions and diverse communities. Apply as a CCPS fellow, read our blog posts and follow us on Twitter to get regular updates about this program.