By: Jen Weiss, 2011 Climate Corps Public Sector Fellow at Shaw University in Raleigh, North Carolina; MEM candidate at the Nicholas School of the Environment, Duke University
When I was a kid, I used to love Easter morning. Actually, I still do. Surprisingly, it has little to do with the chocolate bunnies, the jellybeans, and the colorful peeps. What I love is the thrill of the hunt – where are all the treasures hiding and can I find them all?
This is the feeling I get every day here at Shaw University. There are so many energy efficiency treasures hiding in these historic walls just waiting to be found.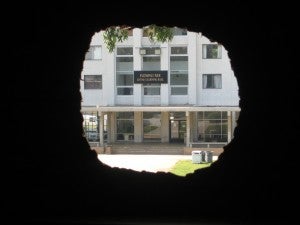 Treasure, Treasure Everywhere!
At this point, it would be really easy for me to say something cliché like, "sometimes the no-cost or low-cost solutions are the easiest to implement." But these energy efficiency mantras don't get my message across, which is that I'm enjoying the thrill of the hunt and finding energy efficiency treasures: 
Let there be light. About 80% of Shaw's indoor lighting has already been upgraded to more efficient fluorescent bulbs (T-8s for us environmental geeks) or CFLs (those squiggly lights for you non-environmental geeks). Together with my treasure seeking EDF partner, Eliza Davis, we found some buildings that had not upgraded their lighting. Also, when touring the residence halls, we found that each of the student desks – over 800 of them – had lights that could be upgraded to more efficient and cost effective lighting solutions. Voila! Treasure #1.
 
Make a grand exit. Shaw has over 250 exit signs that are on 24 hours a day. Switching to a lower wattage LED exit sign can save up to $20 per sign. With a $25 price tag and a $25 rebate from Progress Energy, this one is a no brainer. Treasure #2.
 
Do not overlook the obvious. Sometimes energy thieves are staring you right in the face. We found vending machines, computers, and copiers that were on 24/7. Using occupancy monitors and sleep modes can reduce energy costs for these by 40%. Treasures #3, 4 and 5.
 
It's too hot to be this cool. Thermostats are easy to move up and down, but are often left in the artic chill range overnight and on weekends. The potential savings here are clear. Treasure #6.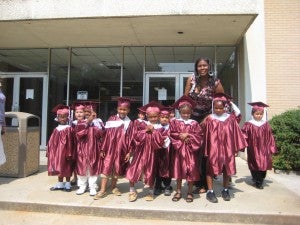 We end this week's treasure hunt with a look at a true treasure – the recent graduates of Shaw's Early Childhood Education Center. To me this was the greatest treasure of them all – our future leaders!
EDF Climate Corps Public Sector (CCPS) trains graduate students to identify energy efficiency savings in colleges, universities, local governments and houses of worship.  The program focuses on partnerships with minority serving institutions and diverse communities.  Apply as a CCPS fellow, read our blog posts and follow us on Twitter to get regular updates about this program.