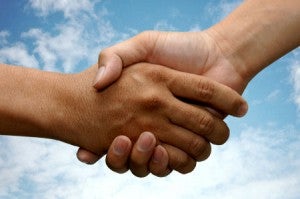 Americans across the political spectrum support clean energy. They know it's good for our economy, our environment and our health. And they know that for too long it's been held back by partisan politics.
That's the message from groups that announced the Clean Energy Commitment this week. The broad spectrum of groups – from Mom's Clean Air Force to Young Conservatives for Energy Reform – rolled out a set of proposals to promote clean energy, give consumers more choices, save taxpayers money, and reduce carbon pollution.
While Washington sees nearly everything through the lens of partisanship, most Americans don't.
It's an agenda that can unite us in the cause of giving our kids a healthier future, and producing jobs today.
Bipartisan support for job growth
The clean energy industry is already creating jobs—and many clean energy jobs are in places you might not expect.
The Clean Energy Commitment proposals have the support of about 80% of the public, according to a recent YouGov poll – including 67% of Republicans, 95% of Democrats, and 75% of Independents.
Texas leads the country in wind energy and combined heat and power. A new report from the American Wind Energy Association shows the Lone Star State leading the nation with over 24,000 wind energy employees.
North Carolina is one of the top four states in installed solar capacity and second behind California in large, utility-scale solar projects. Clean energy added nearly $5 billion to the state's economy in 2014, and today provides nearly 23,000 jobs (unfortunately, state lawmakers recently chose not to extend the tax credit, putting that progress in danger).
The majority of utility scale wind and solar installations in American are in congressional districts represented by Republicans. Why is that important? Because elected officials care about their constituents' jobs, which means both parties have to care about clean energy. And they are growing fast – solar jobs have increased by 20% in each of the last three years.
[Tweet "3 clean energy ideas the left and right agree on"]
The Clean Energy Commitment has a plan:
1. Companies that contribute to carbon pollution should be responsible for its impacts.
When companies are responsible for their pollution, it creates incentives for innovation and more clean energy jobs while protecting our kids and wildlife from climate change.
How can we boost renewable energy jobs and cut pollution in all fifty states?
2. Taxpayers should not be subsidizing the energy sources of the past.
Rather than using taxpayer money to subsidize the energy sources of the past, we need sensible incentives for the clean, innovative, and job-creating energy sources of the future.
3. Everyone should have the freedom to choose clean, affordable energy.
Outdated rules are still limiting who has access to clean energy. Government rules shouldn't stand in the way of our freedom to choose – especially as the cost of renewables plummet and clean energy jobs multiply.
If that makes common sense to you, learn more about the Clean Energy Commitment [here]. Let's get past the old politics and do what's right for our economy and our kids.
Photo source: Flickr/Casa Thomas Jefferson